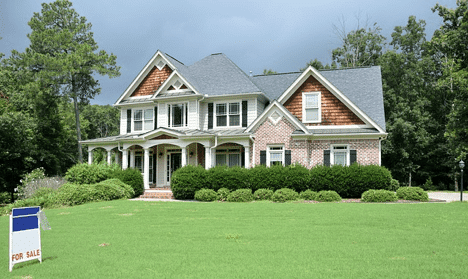 Photo via Pixabay by Paulbr75
Putting your home up for sale comes with a lot to think about, from how to make updates that won't cost a fortune to whether you should work with a realtor. When you're a busy parent, you have even more on your to-do list, so it's important to take steps to make things as easy as possible during the selling process. Staging, cleaning, and preparing your home for viewings takes a lot of time and energy, and it can get costly if you're not careful. In order to make sure your home is ready for potential buyers to look at, you'll need to make a plan for keeping things tidy and organized to avoid rushing around trying to clean up at the last minute.
When you have little ones, this can be tricky. How do you keep children from making messes? Getting organized will help, as will decluttering. Keep in mind that when your home is on the market, it shouldn't necessarily reflect your personal tastes. Neutral colors and sparse furniture will help buyers see the potential as well as make the rooms look bigger and brighter. Focus on keeping things neat and you'll have a sale in no time.
Here are a few tips on getting started.
Stage it
Staging your home doesn't have to be costly. The details can really make a huge difference to buyers, especially since you don't want to go overboard and put out too much decor. Allowing them to see the home as their own will help clinch the sale, so look for small touches that will go a long way. Look to stores like Macy's where you can find decorative pillows for under $50, a scented candle that will make your house smell heavenly, or a bundle of fresh towels that will allow you to stage things just perfectly. You can even grab a Macy's in-store coupon you can pair with sales to help save money.
Declutter
Clutter is a home seller's biggest enemy. Not only will it reflect in the number of offers you get, but it can also keep you from showing off your home's greatest attributes. Get organized as soon as possible by going through the "hidden" spaces: closets, attics, basements, and cabinets. Throw out things that are no longer useful, sell items that still have a little life left in them (and pick up some cash for moving day!), and donate items like gently used clothing or toys. This is also a great way to prepare for packing up.
Cleaning
Once you've decluttered, it's time to tackle the dust and grime. This means getting into those hard-to-reach areas you've ignored for so long and also making sure your house sparkles from top to bottom. You can also enlist the entire family to help with this important task. Use an age-appropriate chore chart to determine who can do what, and then go to town. If this is a task that has you completely overwhelmed, consider it one area where you should spend some money and hire service. Most homeowners in Norwalk pay in the $116-$232 range for a cleaning, but your rate could be less depending on how messy your home is and its size. To limit your stress and get your home whipped into shape, consider this a worthwhile investment.
Cover the furniture
Your furniture can hold odors, pet hair, and food stains, so once you've cleaned it well, keep it looking (and smelling) great by covering it for daily use. Using an old towel or sheet to protect it from pets and kids — especially during the day when you're at work — can be hugely beneficial since you can whip it off right before a last-minute visit from a potential buyer. You can also treat the upholstery with a stain-resistant guard to help keep it looking like new.
Groom your pets
Keeping your pets well-groomed might seem like a small or insignificant way to keep things clean, but it can really help quite a bit. Dogs, especially, can leave behind saliva, dirt, fur, and muddy paw prints as well as odors, especially if you have carpeting. Keeping his feet clean and groomed will help prevent a catastrophe when you're expecting buyers, so get the family involved in this task too. Younger children can brush your pet outside to get rid of dander and excess hair, while older kids can give him a bath or wipe off his feet when he comes inside. Handing out these tasks can help you focus on other things as you prepare for a big sale.
Cleaning house when you're a busy parent isn't always easy, but by taking small precautions, you'll be doing yourself a big favor down the road. Talk to your family about how they can help keep things in shape so your sale will be as smooth as possible.
[video_stack_pro id="1″]