Before repairing a flat roof, you need to know the following in Latrobe:
Latrobe, Greensburg – Pennsylvanians: Use these guidelines below before you start Fixing a Flat Roof:
How old the roof is
The location of where the leak is
If you already know the answer to these points above, you can go directly go to the page that shows you how to fix your roof:
Most of these roofing membranes mentioned above are easy to fix and should not cost much.
Naas Ferreira – Your Support Guide in DIY Fix a Roof in Latrobe and Greensburg – PA Roofer
Flat roof repair Latrobe, Greensburg – I became a roofing contractor in 1997. It was the end of the Tar and gravel roofs, and the Torch Down Rubber roof has already been around for 20 years. Most roofing contractors got into it. As time went by contractors were switching to EPDM rubber and TPO vinyl roofing.
The technique is everything when it comes to roofing systems. As in all the roofing systems, Torch Down Rubber roofs also had its share of unknown problems. But over time I developed and improved the installation technique that eventually led to the much superior roofing system that we refer to as the Two-Ply Modified Bitumen Torch Down Roofing System. I have been a roofing contractor for over 30 years, and now I help people all over the world fix their own roofs.
Architects and engineers do not have the experience and knowledge of what systems are best for flat roofs. For the most part, they would follow the recommendation of roofing contractors they are familiar with and not necessary the best system.
Although many cities and towns want to prohibit the installation of Modified Bitumen Torch Down Rubber membranes, it is by far the best roofing system on the market. There decisions to abandoned this system is because of fear and uneducated decision makers.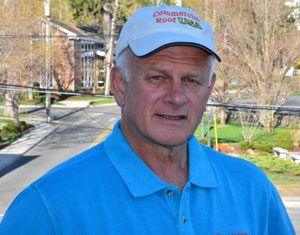 Flat Roof Repair – DIY Fix a Roof support Guide – PA Roofer – Naas Ferreira
When I started off as a Flat Roof Doctor – Flat Roof Fixer – CT, PA TX, NY
This was my first van when I started fixing leaky roofs. I got my experience in Fairfield County, Connecticut. I have trained my three sons and now they are capable of repairing any roof.
We help you save money by showing you how easy it is to make Flat Roof Repairs yourself. Just follow the links in this article and you will see a list of tools and videos that will help on your next Flat Roof Repair. Living in Pennsylvania is not easy with this economy, therefore saving money is crucial. We are here you to help you do just that.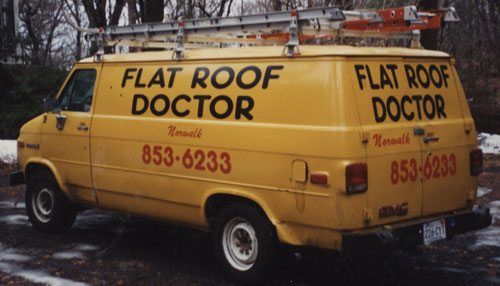 Flat-Roof-Repair Truck – Latrobe Pennsylvania – PA DIY Roof Fixer guiding you to roof repair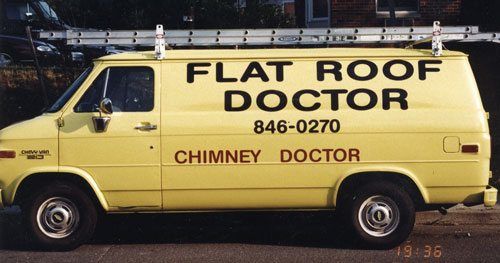 Flat-Roof- Fixer Van – Latrobe PA – Roofing fixer – DIY Roof Fix guide
Flat Roof Repairs in Pennsylvania
Since the '60s, Pennsylvania has seen its share of different roofing materials and membranes that have flooded the market. EPDM Rubber and Modified Bitumen Torch Down were one of the first rubber roof membranes. Pittsburgh has its share of rubber roofs, but all the steel factories have metal roofs. The commercial roofs downtown Pittsburgh all have rubber roofs. These flat roofs, whether its metal or rubber, need maintenance.
With new products and repair kits for flat roofs, it has become easier to have anyone make flat roof repairs. A little knowledge and with the right tools, anyone can make a decent Flat Roof Fix.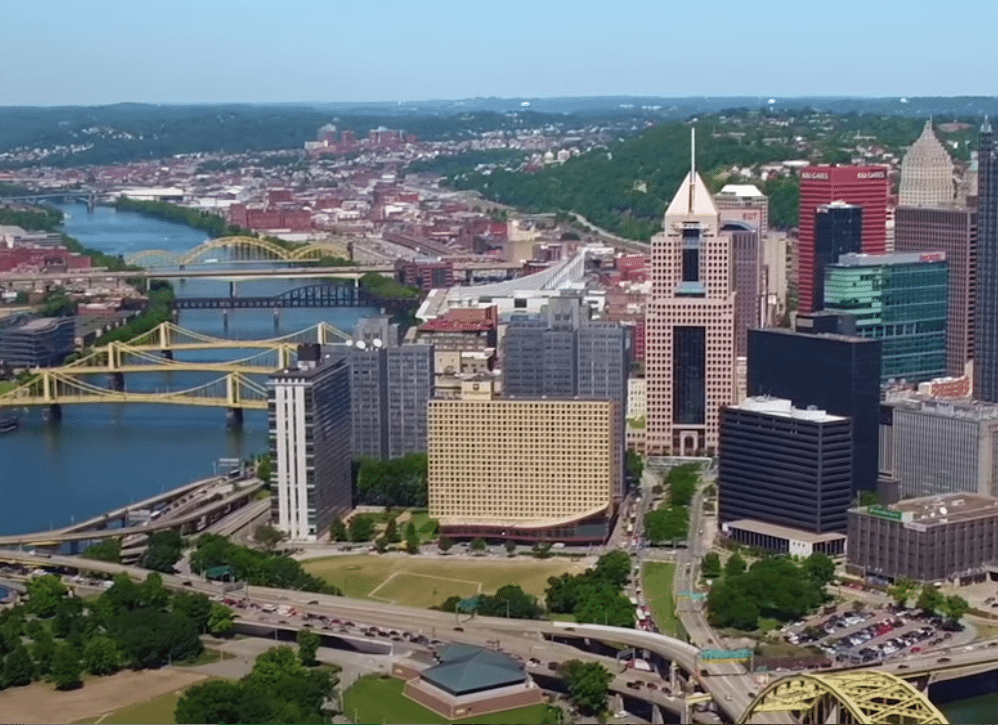 Fix A Flat Roof in Pittsburgh – the City of Flat Roofs, Metal Roofs
How about it Pennsylvanians? Let a fellow man help you make your next flat roof repair. It doesn't matter what type of rubber membrane or skills or money you have, if you need help to Fix your own roof, I am here to help.
Latrobe, PA – Flat Roof Repair
Latrobe is only forty-five miles from Pittsburgh. If you ever need help with your flat roof repair, I am only a call away. Even easier, use the chat at the bottom of this page to chat with me. Oh, another thing, take pictures of the flat roof with your phone and send it to my cell phone. I will analyze the roof via the pictures and give you an unbiased opinion
Flat roof Doctor telephone and Address
192 McCullough Rd, Latrobe, PA. 15650
Tel. 203 858 0080