Fixing the following flat roof materials, EPDM Rubber, TPO and Torch Down Rubber.
Flat Roof Repairs – EPDM, TPO, Torch Down Rubber membranes
Fix a Roof – Flat Roof Doctor – Latrobe
192 McCullough Road, Latrobe PA. 15650
Tel. 203 858 0080
DIY guide and videos to help you fix your own roof. Flat Roof Repairs are easy if you know how. – Latrobe

Flat Roof Doctor – PA. Roofer
Location: 192 McCullough Rd, Latrobe, Pa 15650
Tel. 203-858-0080
Website: https://flatroofdoc.com/
When to repair or replace a flat roof?
The graph below is to help you understand what the life expectancy of each different roofing material is. Each roofing material will perform differently in climate conditions, especially with exposure to the sun.
Living In Latrobe, PA, the sun gets pretty hot during summer and can harm the roofing membrane. Judging by the graph below and calculating your flat roofs exposures average exposure to the hot sun, you can make a reasonably calculated assessment of your flat roof.
Aldi Supermarket – Greensburg, PA
The Aldi Supermarket roof is an excellent example of an entire roof that only lasted 15 years in the direct sunlight of Pennsylvania. So you can imagine that any states that are lower than Pennsylvania on the map and also more West will have a harsher sun and UV exposure.
I have a video showing temperatures on an EPDM Rubber Roof that exceeds 145 degrees C. This was in Connecticut. The adhesives used to glue the seams together breaks down faster, and the roof will fail prematurely. For this reason, we do not recommend EPDM Rubber membranes on any roof.
PA Roofer – Pittsburgh to Philadelphia – Flat Roof Repairs
We are the Flat Roof Experts in Pennsylvania. We help you "Fix your Flat Roof." When you have a flat roof issue, then you should always educate yourself about your roof. This way you can make better decisions whether you should repair or replace your flat roof.
If you have enough information, you can negotiate a better deal, choose the best roofing system and hire the appropriate roofing contractor. You do that with schools for your child, with grocery shops you shop at, with selecting a dentist, why not with a roofing contractor that is qualified and have an address that is in the state of Pennsylvania.
Hiring a Roofing Contractor from Pittsburgh while you live in Latrobe, makes no sense. Always try to find a local Roofing Contractor if you can not Repair your flat roof yourself.
How to Fix a Flat roof?
When you don't have the money to hire a roofing contractor, then the question might come up"How to fix my flat roof?".
It is effortless to make flat roof repairs once you know what roofing materials are on your flat roof. Follow these steps to determine what type of roofing membrane you have and then follow the links to the proper "How to repair a flat roof"?
Watch this video where it shows the temperature of an EPDM Rubber Roof
DIY Roof Repair – Fix A Roof – Latrobe
With all the modern roofing materials it became easier to fix any roof yourself. All you need to know is the type of roof you have, the tools needed and a little guidance to make any roof repair.
These are the steps to take in making a roof repair:
Once you have the answer to the steps above, you are ready to Fix your own roof. If you already know the answers, you can go to these pages directly for your specific roof type.
119 Triangle Dr, Greensburg, PA 15601 – Fix a Roof – Flat Roof repair
Below is a video was taken on 119 Triangle Dr, Greensburg, PA 15601 Aldi's supermarket, only 5 miles from Latrobe, PA. This TPO flat roof is fifteen years old, and it is starting to leak in 2017. I was astonished to see such an excellent looking roof leaking. By accident, I stumbled on the reason why it was leaking. When I wiped my hand on the surface, it was white from the chalk like the stuff of the membrane. Then I saw these small black marks on the seams, and then I realized that the ultraviolet had deteriorated the roof, especially at the seams.
See the map image of Aldi's Supermarket from Google here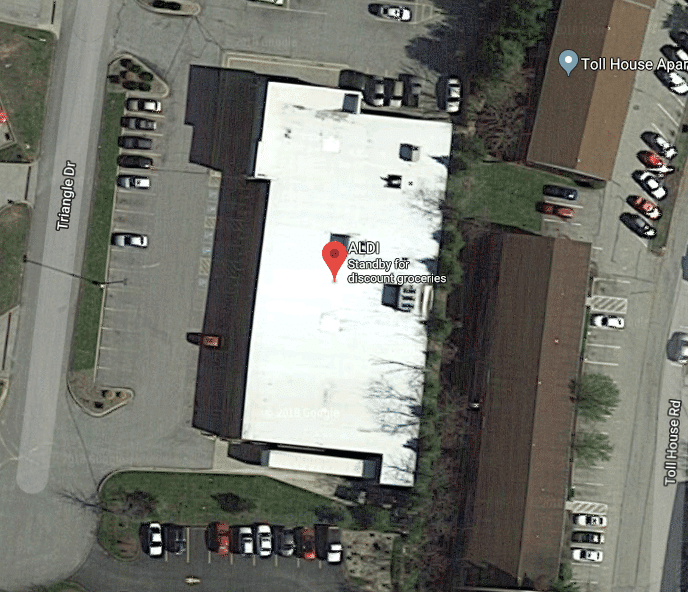 Aldi supermarket in Greensburg, PA
Roof Membrane Life Expectancy in different Heat indexes measured in years70° F80° F90° F100° F0 yrs5 yrs10 yrs15 yrs20 yrs25 yrs30 yrs35 yrs40 yrsTorch 2 ply CoatedEPDM RubberTPO VinylTorch 1 ply No CoatTorch 1 Ply CoatedMeasured In Years
| Temp | 70° F | 80° F | 90° F | 100° F |
| --- | --- | --- | --- | --- |
| Torch 2 Ply Coated | 45 | 40 | 38 | 35 |
| EPDM Rubber | 12 | 8 | 5 | 4 |
| TPO Vinyl | 22 | 15 | 12 | 10 |
| Torch 1 ply No Coat | 14 | 11 | 9 | 8 |
| Torch 1 Ply Coated | 35 | 32 | 28 | 27 |
States that have a High Heat Index and ultraviolet exposure
EPDM Rubber and TPO Vinyl roofs are not suitable for flat roofs in states that have a high average heat index. These are:
Florida
Georgia
South Carolina
North Carolina
Tennessee
Alabama
Mississippi
Arkansas
Louisiana
Oklahoma
Texas
New Mexico
Arizona
California
Nevada
The salesman has their own trucks. Flat roof Doctor has over 30 vehicles.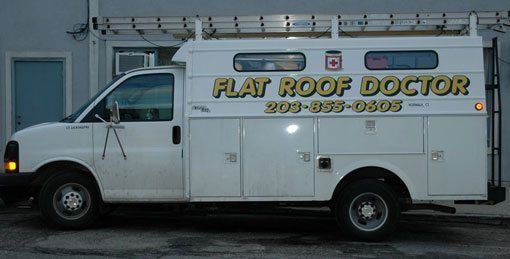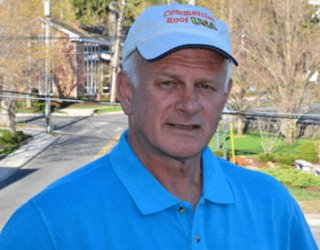 Naas Ferreira
Operations Manager in Pennsylvania
Naas oversees the day-to-day operations of Flat Roof Doctor. He is an outstanding family man, devoted Christian.
Contact Naas at naas@mac.com also known as PA Roofers
Five types of roofing materials commonly used for flat roofs
There are five types of single-ply roofing systems commonly used on flat roofs. They are EPDM, TPO, Modified Bitumen Cold Apply, Modified Bitumen Self-Adhering, and Modified Bitumen Torch Down systems. Flat Roof Doctor specializes in a two-ply rubber roofing system which is the Modified Bitumen Torch Down membrane. The two-ply system consists of a fiber base sheet with a self-adhering modified base attached to it, which is considered the first layer. The second layer is the Modified Bitumen Torch Down membrane which includes embedded ceramic granules for protection against harmful ultraviolet light.
All single-ply roofing systems come with warranties of between 15 and 20 years, however, the 2 ply rubber roofing system, we specialize in, comes with a 40-year warranty. more…
Flat roof Doctor crew installing a rubber roof in Pittsburgh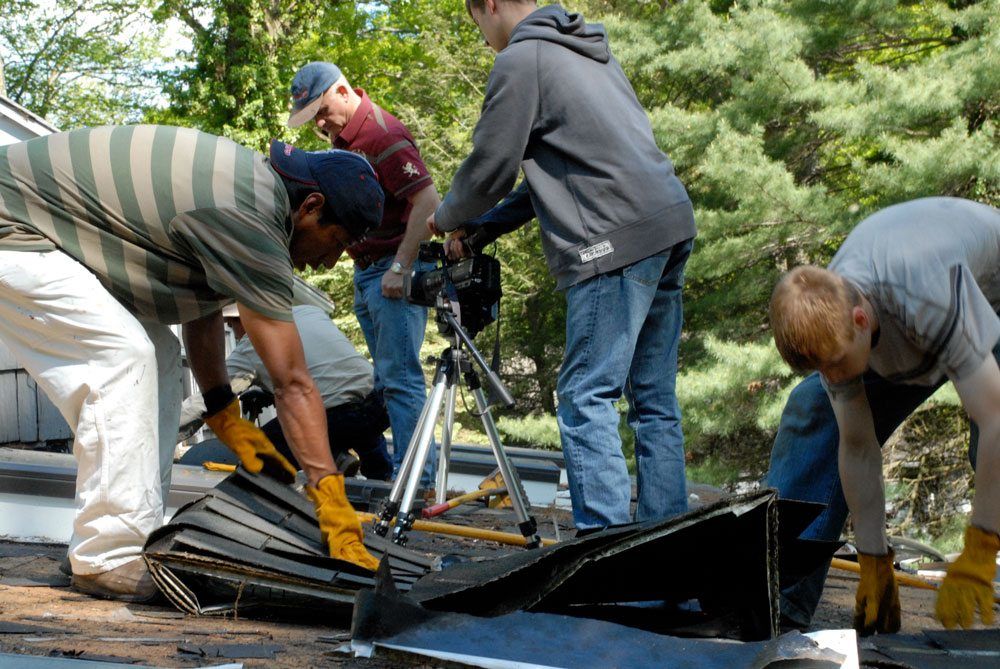 The video below describes the advantages of a Modified Bitumen (MB) Torch Down Rubber Roof. It is the best roofing material and method for commercial flat roofs, to date. Like EPDM, MB is in existence since the late 1960s. Unlike EPDM, the rubber roof material is a modified asphalt, and single-ply bitumen membranes can be combined to create a two-ply system with which we offer a 40-year warranty.
Latrobe Pennsylvania – Flat Roof Installations
Flat Roof Doctor of Latrobe PA is serving the Western Pennsylvania region. We take pride in what we do and provide the best possible quality job.