When an EPDM Rubber Roof Membrane is beyond repairs
This article: Explain why it is not wise to repair an EPDM Rubber Membrane that was installed before 2015. See the images of EPDM Rubber that has been patched. That is a sign when to quit repairing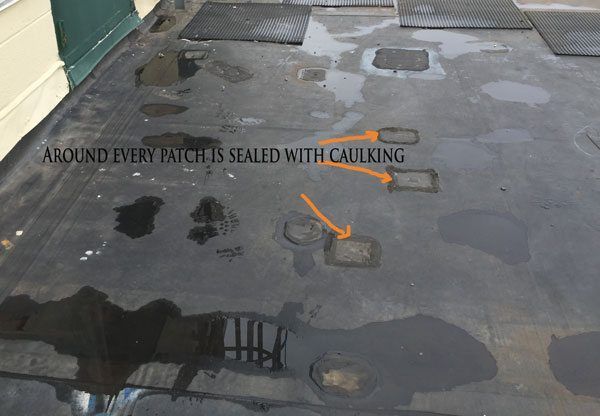 EPDM Rubber Roofs also have its limits and when to stop repairing
Most EPDM Rubber Roofs fail prematurely due to the adhesives that breakdown. Ultraviolet rays and the heat beating onto the black EPDM rubber roof causes the adhesives that bond the seams together to break down causing leaks. In most cases, an EPDM roof starts showing signs of failure between five and eight years. The repairs quickly escalate, and before you know it, you could have had a new roof for the price of all the repairs.
All EPDM Rubber Roofs installed before 2015, are bound to fail prematurely. The reason is that the adhesive that was used to bond the seams together failed due to ultraviolet degradation.
Repairing these rubber seams became costly, and it was better to install a new roof. The revised method of installing an EPDM Rubber Roof is to use seam tape. Although it appears to be an improved system, it is too early to know if these seam tapes will withstand the ultraviolet.
Repairing Flat Roofs can end up being costly
There are many factors that must be taken into account whether a roof should be repaired or not. How can someone tell that the roof needs to be replaced?
Here is a list of things to look for that could help decide if the roof should be replaced
When many visible patches on the roof are found
When a silicone coating has been sprayed on the roof
When the rubber is curling and folding in some areas
When nails or screws are pushing up through the membrane
When numerous areas have a soft surface when walked on
When water ponding is in large areas
When seams are separating
When the particular rubber roof is at the end of its life expectancy

Before making a Flat Roof Repair, determine what type of roof you have
Help me with Google - please!
Click the 5 Stars at the top. If you have time write a comment at the bottom - Thanks