Articles and Videos about:
Fixing and Recovering an old metal roof
Our method patching it with rubber
Showing silicone spray destroying a metal roof
Installing a Rubber Roof over a metal roof
Cost effective Metal Roof Repairs
Many old metal roofs have been around for 40 years or longer. Some of them need fixing. The fasteners and washers have dried up and caused leaks.
Our method of using rubber membrane to make repairs have worked very well so far. This technique could help you extend your metal roofs life for another ten years.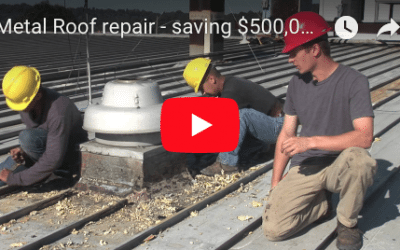 Metal Roof Recovery – the best way and less costly Commercial Metal roof recovery There are many methods on salvaging a metal roof that has gone past its life cycle. Most ideas are to spray a coating over a metal roof. When you look and listen to all the coating...