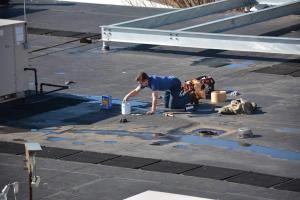 How to find and repair leaks on float roofs
Finding and repairing leaks on flat roofs. Choose from different categories what you want to learn about.
Flat roof leaks can be caused by:
flashing – this is the transition area from a roof to an object
drains – this could be gutters, scuppers and inner roof drains
skylights – roof windows – curbs and glass seals
vents – sewage vents stacks, roof vents, A/C vents
air conditioners curbs – air handlers and compressors on a roof
pitch pockets – where pipes and electrical wires penetrates the roof
siding – walls on a roof
door sills – entrance ways onto flat roofs
and other objects.