How to Repair a TPO Roofing Membrane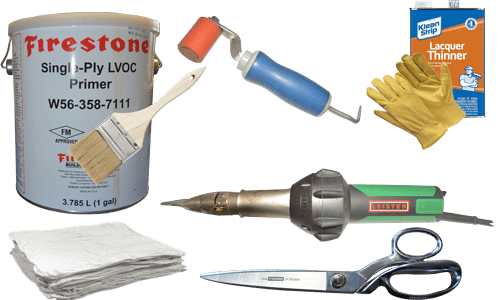 Articles/ Videos about TPO Membrane:
Main Page: How to repair a TPO membrane
Other Articles:
TPO and PVC Roofing – Single Ply Roofing System
Advantages and Disadvantages of a TPO roof
TPO Roofing membrane
Fixing a TPO Roof is easy and can be done with a DIY Kit
TPO Vinyl Membrane Repair
It is relatively easy to make a TPO Vinyl Membrane Repair
TPO Vinyl Membrane was introduced in the late '70s. It has been promoted as a commercial roof membrane. From my experience is that it doesn't last longer than 20 years in the Noth East of the USA. In the south, it will be even worse.
Repairing these membranes are fairly easy.
How to Fix a TPO Vinyl Membrane
TPO Vinyl Roofing membrane
If you have a TPO Vinyl Roof, then, for the most part, it can be repaired. Depending on how much sun exposure the roof had, these roofs can last up to 20 years.
The seams are fused together and will not come apart as in an EPDM Roof. Wipe your hand on the surface of the TPO roof and if your hand has white chalk on it, then it is at the end of its life expectancy. The chalking means that ultraviolet rays have beaten on it and a new roof might have to be installed. This doesn't mean you can't fix it. It means don't spend too much repairing a roof that will not last much longer.
Warning: Read the article on Steps to take before repairing
This video shows a TPO Membrane Roof after 15 years started to leak. Ultraviolet rays are breaking down the seams.
Below are the Tools and Materials needed to make Roof Repairs on a TPO Vinyl Roof
TPO Roll of seam Tape to make roof repairs
Scissors for TPO Cover Tape Roofing Repair
Milwaukee utility Knife to be used for making TPO Roofing Repairs
Lacquer Thinners, Rags, and gloves
A special Heat Gun to fuse the seams together
Hand pick to probe the seam edges to find a loose seam and a roller to pressure seams together when fusing with a heat gun