The following tips are the best solutions for repairing leaks on Metal Roofs
We have many videos on how to repair leaky metal roofs, including skylight leaks, vent flashing leaks, and metal seams. Never use tar or caulking to attempt any repairs on metal roofs. Caulking dries out and doesn't last.
When repairing leaks on metal roofs, you need to use a product that will adhere to metal, and that is flexible so that it would not crack during the expansion and contraction of the seams. Watch these videos on How we use Turbo Poly-Seal to make repairs on metal roofs and skylights that last.
See this great article on "How to determine the type of flat roof membrane to make repairs" you have.
Repairing a metal skylight leak
Watch this video on how to seal between the glass and metal frame of an old-style skylight. The seal between the glass and metal frame is what deteriorates and then cause the skylight to leak. Without removing the metal frame and replacing the seal we can make a transition that will never crack again. Here is another article on "How to repair a skylight leak on a metal roof"
How to repair seams on Metal Roofs
This video shows how we sealed the seams where to metal panels joint together. One of the most common issues on a flat roof is the seams where to metal panels overlap each other. What happens is that the neoprene washers dry out and lose the pressure that is supposed to have to force the two panels tight together. Water starts collecting around these fasteners and also between the overlapping panels causing the metal to corrode.
What we do is to remove the fasteners and replace them with a low profile pan head screw. Then we clean the area around the overlapping seams and install Turbo Poly Seal with a mesh to create a smooth transition.
See more videos on "Metal Roof recovery".
Turbo Poly Seal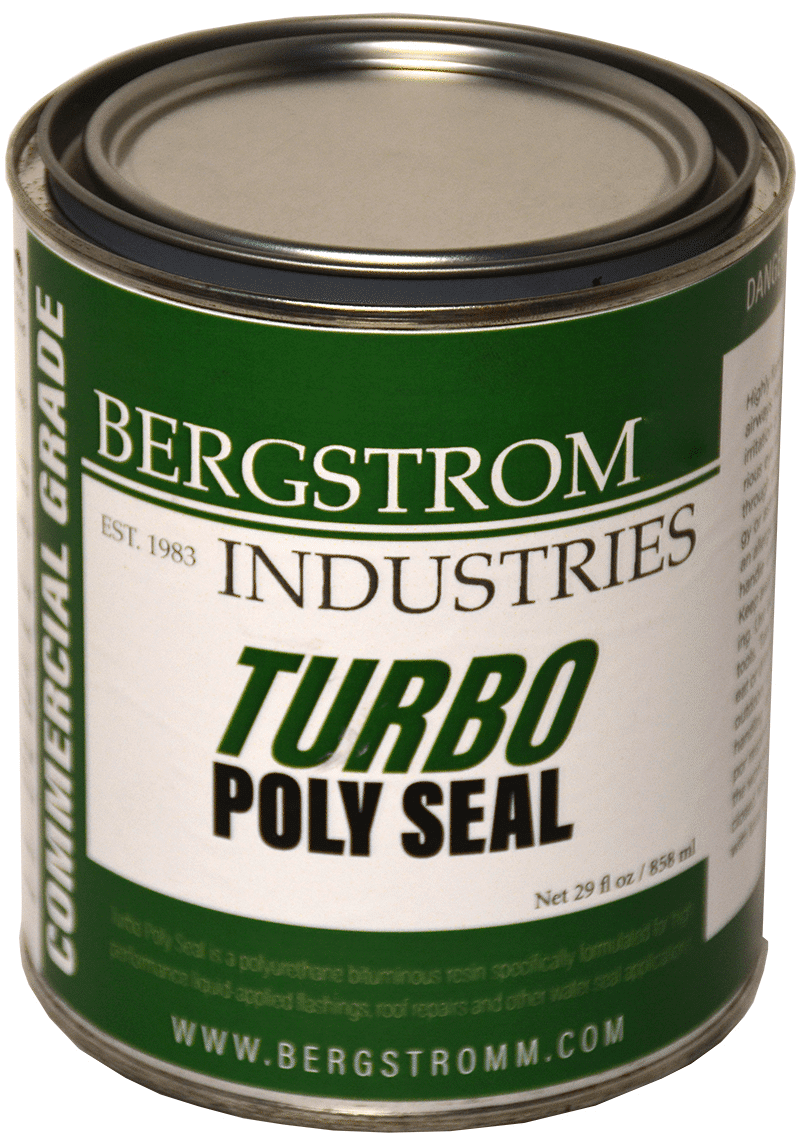 Turbo Poly Seal is a combination of Polyurethane and Bituminous resins specially formulated to be flexible to withstand stress when applied over cracks, seams, and metal surfaces. This product can be purchased at Bergstrom Industries
There are many applications where Turbo Poly Seal can be used:
Chimney Crowns
Flashing detail
Metal Roof Seams
Cement Cracks
Concrete Cracks
Vent Pipe Flashing
Torch Down Roof Repairs
Asphalt Roof Repairs
Roof Drain Repairs
Copper Seam Repairs
Turbo Poly Seal comes only in brown. This product is applied with a paintbrush and should be used in conjunction with a polyester fleece that is part of the kit when purchased. Turbo Poly Seal does not have a shelf life after the can is opened.
Warning: Turbo Poly Seal is not compatible with EPDM Rubber and should not be used on EPDM Roofs.
Super Silicone Seal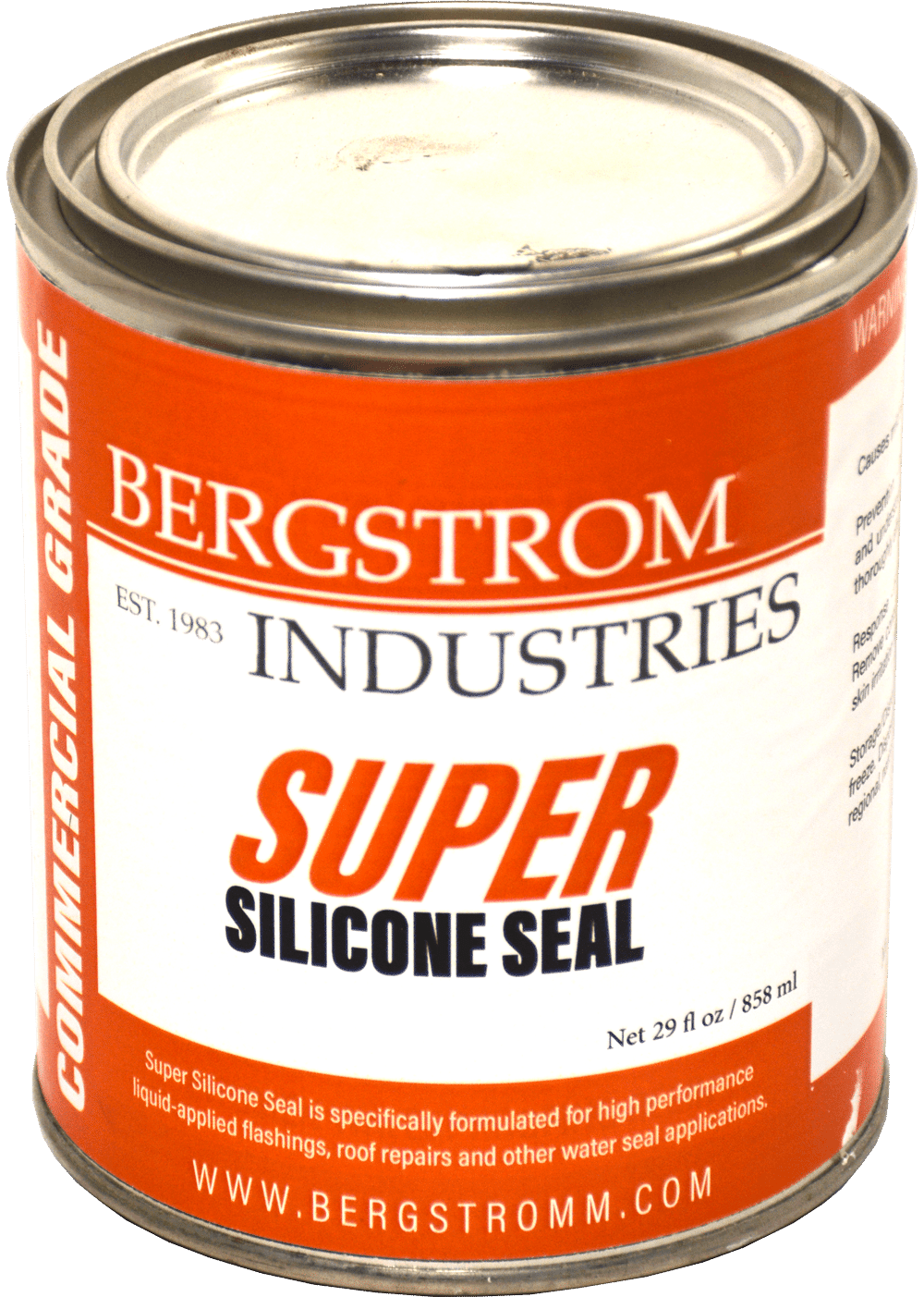 Super Silicone Seal is a silicone-based product specially formulated for EPDM Rubber Roofs. This product can also be applied to other surfaces like Asphalt and Torch Down Roofs. This product can be purchased at Bergstrom Industries.
Super Silicone Seal performs well when applied to EPDM Rubber and other roofs. It will protect against ultraviolet, reduce heat by 70% and seal seams and other leaky areas.
Uses for Super Silicone Seal are:
EPDM Rubber Coating
Asphalt coating
Torch Down Coating
Metal Roof Coating
Metal Roof Seam Repair
EPDM Rubber Seam Repair
Metal Flashing repairs
Super Silicone Seal comes in white only. It is non-toxic and has a shelf life of several weeks after the can is opened.
Super Silicone Seal can be applied with a roller or spray gun. When repairing transition seams then a polyester fleece must be used.
Another method to repair skylight flashing on metal roofs is to use the Modified Bitumen Rubber membrane to make the transition. Also, watch this video on a "Metal Roof that's gone bad"
First, we clear all the old tar and caulking from the flashing.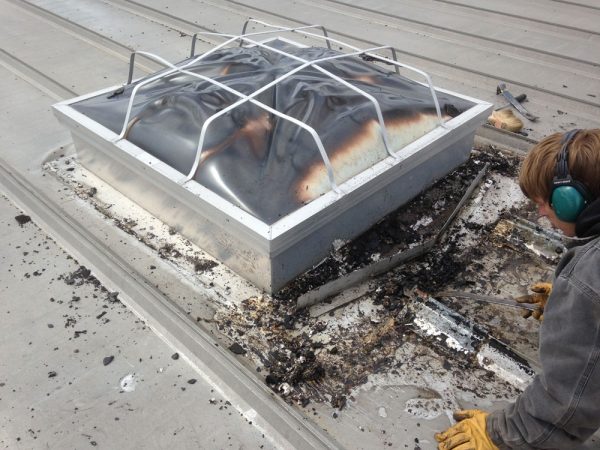 The next step we cut a modified Bitumen membrane that will fit in between the risers of the panel and overlap the flashing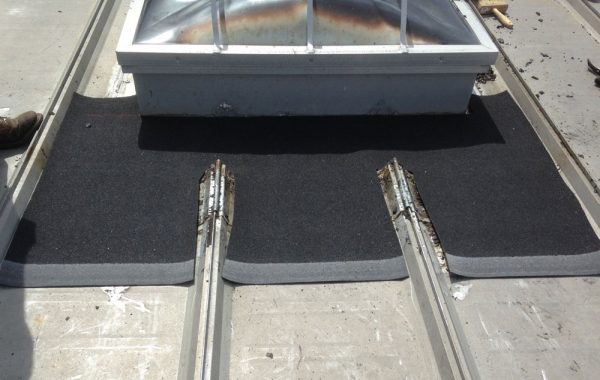 The next step is to adhere the membrane to the metal surface. We use Karnak 81 or Karnak 66 trowel grade. We smear the Karnak the entire surface of where the rubber membrane will cover and then place the membrane in place. We then roll out all the air trapped to make sure the rubber membrane is fully attached to the metal.
This method is very effective. The rubber membrane can move and stretch with metal panels as it expands and contracts.
How to repair Metal Roof Vent Pipe flashing
The rubber boot around vent pipes on metal roofs deteriorates and needs replacement. instead of replacing it, we use Turbo Poly Seal to make the necessary repair. This method can be applied to any flashing or transition on metal roofs.
What causes a skylight to leak?
Most skylights have a metal frame that holds the glass in place. Between the metal frame and the glass is a rubber gasket. This rubber gasket shrinks and dries out. The metal frame is also not to tight and space opens up between the frame and the rubber gasket which causes water to leak through.
Can skylights be repaired effectively?
Yes, but not with caulking. Most repairs we have seen were done with caulking and that never works. We use a product called Turbo Poly Seal to seal the transition between the frame and the glass.
More articles on Flat Roof repairs