Torch Down Rubber Membrane Repair
It is fairly easy to make a rubber membrane repair ones you have the tools and materials.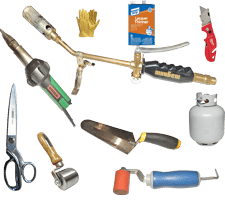 Main Page: Torch Down Rubber Membrane Repair
Other Articles:
Materials and Tools list  with instructions to fix a Torch Down Rubber Roof
What to look for before making roof repairs
Comparing Torch Downs with other Roof systems
Aluminum or Silver Coating for Torch Down membrane
How to mend or patch a Torch Down Rubber Roof
Warning - Before making Torch Down Rubber Membrane Repairs - see important steps
The Torch Down Rubber Membrane is still by far the best roofing membrane and will outlast any other roofing membrane.
You might have a Modified Bitumen Rubber Roof Membrane that wasn't installed or maintained properly and therefore may need some care.
How to repair a Torch Down Rubber Membrane Roof
Modified Bitumen Torch Down Rubber membrane
If you have a Torch Down Rubber roof and it was protected against ultraviolet rays with a silver coating or a ceramic surface, then it could last indefinitely. These roofs are tough and as long as there is a protection on it, they will not go bad.
If it was not protected, then you have to look for certain signs to determine if it's repairable or not.
Spider cracks in the surface – the entire surface will have these fine cracks, but it could be just in the beginning stages and you could still repair the roof
Look for seam separation – if the installer didn't know how to use a torch properly to fuse the seams together, then the repair will be costly.
Look for shrinkage. If there is evidence that the rubber membrane is pulling away from the wall or flashing due to its age, then it could still be repaired but at a considerable cost.
Deep spider cracks mean the roof is over 10 years old. This could mean that it was not protected and it becomes too costly to repair.
Spider Cracks in the surface of an unprotected Torch Down Rubber Roof. If you see cracks like these then the roof is approximately 10 to 12 years old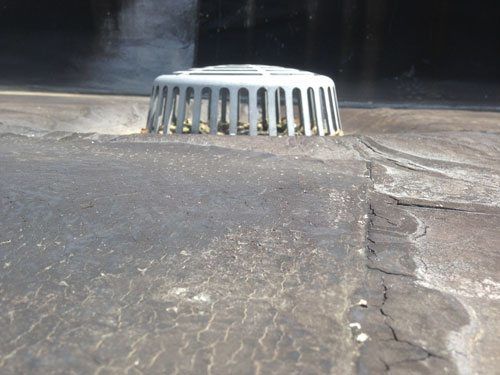 Modified Bitumen Rubber Membranes
There are many types of Modified Bitumen Rubber. From a Torch Down to a Peel and Stick type
Repairing a Torch Down Roof is relatively easy. Using the right "Tar", you can almost fix any Torch Down Roof
Don'ts for flat roof repair on a Torch Down
Do not use silicone caulking
Do not use roofing cement or tar from Home Depot or a Hardware store
Do not paint the roof with Silver Coating in the hope that it will seal the leaky area
Do not smear tar all over every seam and likely place you thought it could leak from
I guarantee you that if you apply the above-mentioned methods for a flat roof repair on a Modified Bitumen Rubber roof, you very likely will have to do a new roof.
Below is the list of tools needed and Instructions on how to repair a Modified bitumen Rubber Roof
Below are the Tools and Materials needed to make Roof Repairs on a Torch Down Rubber membrane
Modified Bitumen Torch Down Granular Rubber Membrane
Milwaukee Utility knife with hook blades
Propane Gas Tank and Gloves 
Karnak 81 Trowel Grade Modified Bitumen Adhesive
 Method 1  – Karnak 81 Trowel Grade Adhesives
This tar comes in 5-gallon buckets that were specially designed for the Modified Bitumen Rubber materials. This tar can be used almost everywhere to make minor repairs. If a small puncture or seam separation is found, then this is the only Tar that will do the job.
How to use this Karnak 81 Trowel Grade Tar
Clean the area from debris and moist by using lacquer thinners and a rag
Use a round nose trowel and scoop some of the tar and smear it over a small tear or visible opening that causes a leak
If the rubber membrane detached from a drip edge or metal flashing, then pull the membrane slightly back and smear the Karnak 81 between the membrane and metal covering all the metal surface about a 1/8″ inch thick. Then press the membrane back on the drip edge or flashing sticking it with tar. Use the same principle as gluing two pieces of paper together.
If there is seam separation, then pull as much of the seam open and smear the Karnak 81 liberally into the seam. Then press the two materials together again to bond together. Do not smear the tar over the seams but instead between the two rubber membrane surfaces. This is the mistake most people make.
This should be done preferably on a hot day when the rubber membrane is more flexible. If it is cold, use a plumbers propane torch or a roofing torch to heat up the membrane to make it soft.
 Method 2 – Using a Torch to make the necessary repairs
If the seams were not welded correctly, then it might be necessary to reweld them with a propane torch.
How to use a propane torch to weld the seams to make the necessary repairs
Clean the area with all  debris and make sure it is dry
Try to separate the seams that were not welded correctly by trying to pull the seams apart. This could be a little tough to do.
Then with a glove and round nose trowel in one hand and a propane torch in the other, weld the seams again together
After running the torch the entire area where the seam was separated, go back on top of the seam and apply pressure with the trowel to make sure the seams weld is tight. Watch the video that I have made to show how to make a seam weld.
More articles and videos on different flat roof repair issues