Flat Roof Repair – Video
Flat Roof Repair – Pitch Pocket
The most overlooked element on flat roofs is a Pitch Pocket. Watch the video to understand what a Pitch Pocket is and how simple a flat roof repair can be.
Video on Flat Roof Repair involving a Pitch Pocket
There are many videos on this page explaining different elements of a flat roof that may need repairs.
How to begin DIY Flat roof repairs:
To attempt any DIY Flat Roof repair, use this list to check for possible elements on the roof that could cause a leak.
Check for visible signs of areas that need attention
Check pitch pockets where the a/c pipes and wires go through the roof
Check vent pipe flashing
Check for cracked siding boards
Check window sills and door sills
Check the flashing on railing posts
Check the flashing on chimneys
Drain for membrane separation – rubber membranes often peels loose from drains
Scuppers for membrane separation – rubber membranes can pop loose from scuppers
Metal edging on the perimeter of a flat roof
Pooling water
Finding a leak on a roof is harder than fixing a leak. Many factors can cause a leak. The most common areas that tend to spring leaks are around the flashing areas of skylights, vent pipes, door sills chimneys, railing posts, and siding.
Before making a roof repair, determine the type of roofing system you have.
The following roofing systems can be found on a flat roof
Modified Bitumen Torch Down Rubber
Old Tar and Gravel Roof
The days are gone where you can use tar for any roof repair. Every roofing system has its repair techniques. For the most part, any caulking can be used to make temporary repairs. The more sealant, the harder it is to clean the mess later on when the permanent repair is needed.
Using an inexperienced person to make major repairs, could be very costly and even mean the replacement of an entire roof.

Flat Roof Repair – Pitch Pockets
Pitch Pockets are open bottom flanged containers installed on a roof ordinarily next to air conditioners. A Pitch Pocket is used to allow air conditioner pipes and electrical cables to go through the roof but to keep water out.
Over time the tar in these Pitch Pockets will dry and shrink causing a hollow section at the top where water can sit and works its way into the building. These Pitch Pockets must be filled to the brim and also around the pipes and cables to make a watertight seal.
Pitch Pockets
The most common flat roof repair leaks are from pitch pockets.
Pitch pockets come in different shapes and sizes. The purpose of a pitch pocket is to seal around pipes, electrical wires, and objects that come through a roof. In the old days, these open bottom containers with a flange had melted "pitch" or hot tar inside of them. We still apply the same principles, but there are different products on the market that can be used to fill these containers.
Pitch Pocket in this image has the foam insulation that prevents the tar to stick to the pipe itself.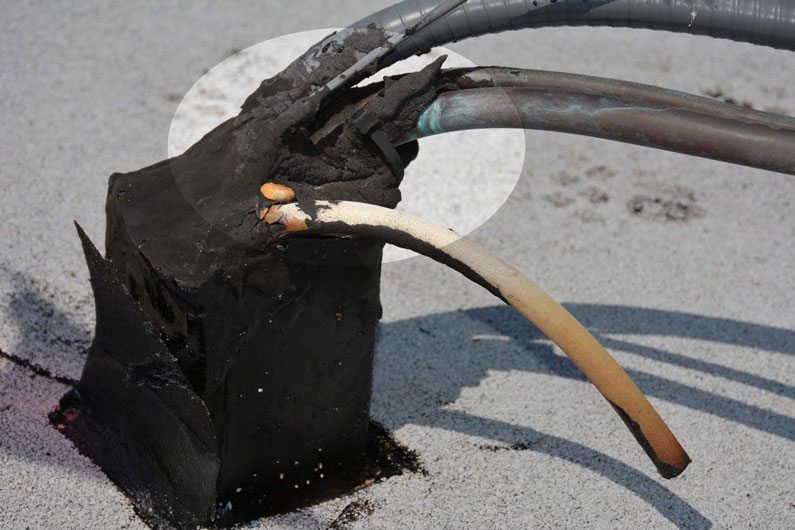 A common problem with Pitch Pockets
Often a roof will leak because the tar in the Pitch Pocket has dried and cracked. It is advisable to check it every two years. In this Pitch Pocket, water can accumulate and run into the sides where the material has separated.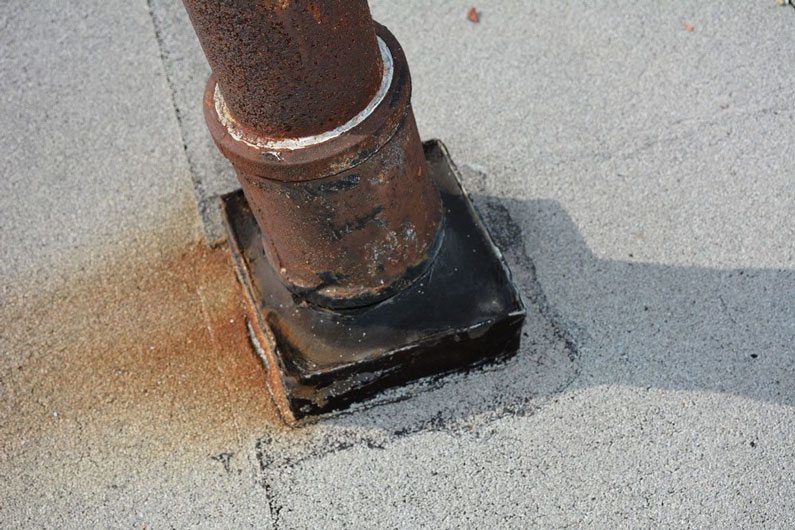 Pitch pocket need tar
The image shows another example of a Pitch Pocket that needs new tar. Pitch pockets are one of the most common areas on a flat roof that causes leaks. It is necessary to inspect a Pitch Pocket should every two years.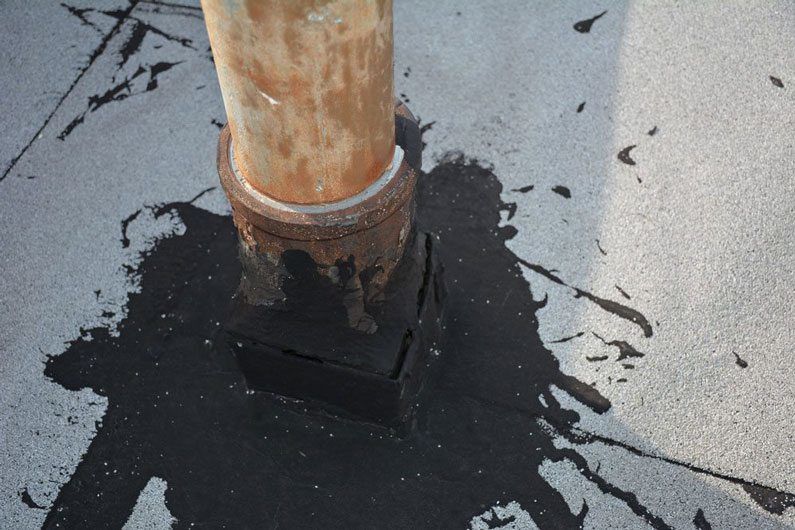 Pitch pocket for EPDM Rubber Roofs
Pitch Pockets specially designed for EPDM Rubber Roofs. The material used to fill theses pitch pockets has a rubberish feel and stays pliable. Making flat roof repairs on EPDM Roofs is common.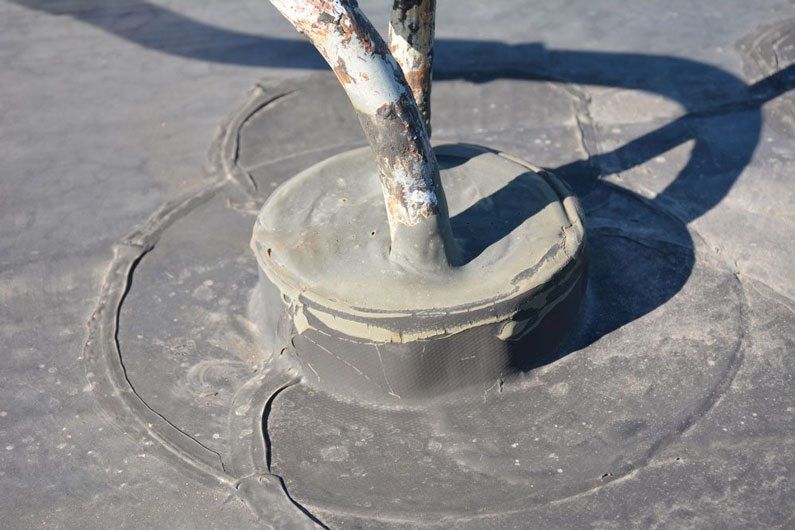 Pitch pocket – foam around copper pipes causing leaks
The foam insulation wrapped around the copper pipes is the cause of water leaking through a flat roof. The foam breaking up is a common problem, and not everyone knows what to do in this case.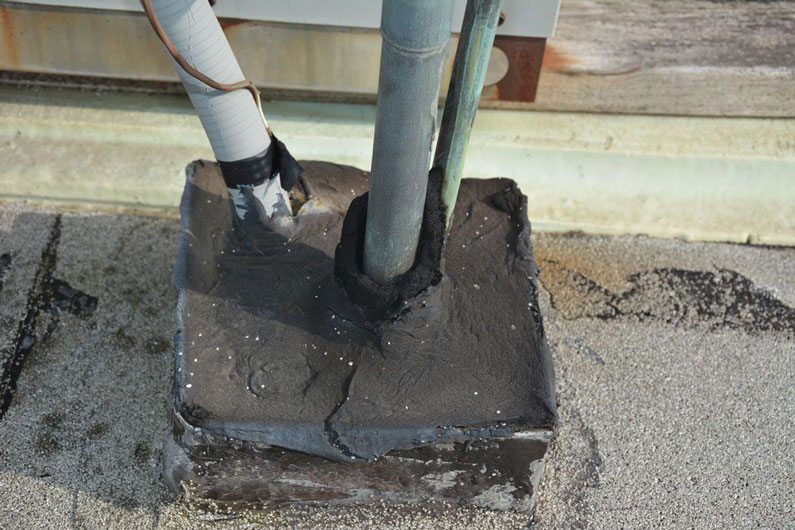 Drains
Drains on flat roofs are the most feared object for most roofing contractors. The reason is you never know how much time it will take to repair. What most people will do is smear tar around the drain hoping that the problem will go away. Adding tar around a drain compounds the problem.
The tar build up prevents water flow
Tar traps water under the membrane and causes rot
Pooling water degrades the rest of the roof
Frustration builds up with owner and repairman – this is a biggy
A drain is supposed to be the lowest part of a flat roof. When adding tar and more material around a drain causes a build up and a mess for someone to make a proper repair.
This video shows how the installation of a retrofit drain after so many people tried everything to fix the leak.
Metal edging on the perimeter of a flat roof
One of the most overlooked areas on a flat roof is the perimeter edging. Almost all the time that the membrane will pull away or crack from the metal drip edge. It is important to inspect every place where two sections of the metal join.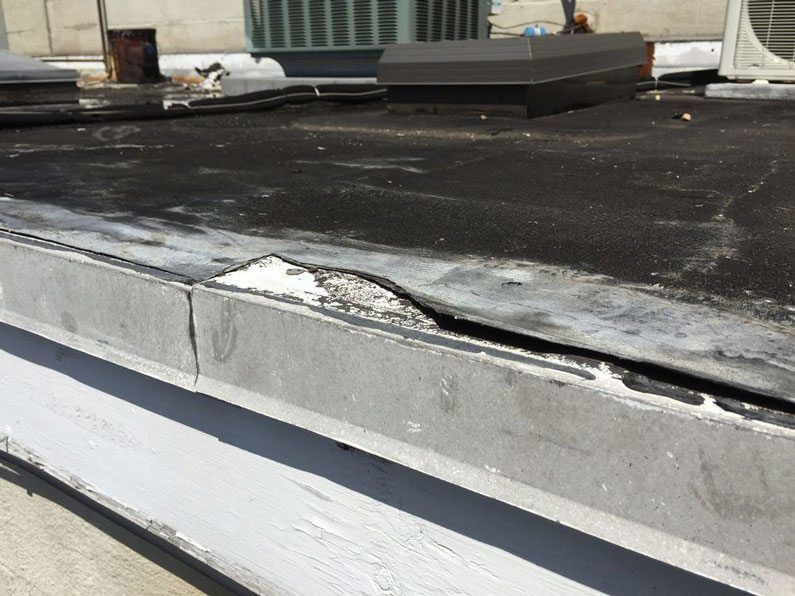 Repairing a chimney leak on a flat roof
Flat Roof Repairs involve Chimneys. When Chimneys leak, water will always show up under the flat roof. One of the best methods to solve a leaky chimney problem is to wrap it with a torch down rubber membrane.
Click here to find chimney caps
Parapet walls covered with a rubber membrane
Most roofs in Brooklyn NY have a torch down membrane. But the problem is that the chimneys and parapet walls are what causes most of the leaks. The best solution for this type of flat roof repair is to cover the parapet walls with the same rubber membrane as on a roof.
Pooling water on a flat roof can mean disaster
One of the solutions is to make a channel to lead the water off the roof. Pooling water is never good for any roof and can lead to costly repair if not taken care of soon. In this video, we forgot to show the end result, but you will get the just of it.
Pooling water on a flat roof around skylights
When a roof sagged over the years causing water to pool especially around skylights, it can become a major issue. The roofing material will deteriorate and cause leaks and rot that will lead to a replacement of the roof. Instead of building the roof up, which would have meant to raise the skylights as well, we installed a channel instead. This was the most cost effective way to get rid of the pooling water.
Chimney and Siding causing the leak
When siding butts up against a brick chimney, there is always a chance of it leaking where the two meet. Most of the time people just caulk to seal it. There is almost no other way to do it except to make proper flashing and rubber gaskets. We recommend using a urethane type of caulk instead of silicone or latex. Watch the video to see where to look for a possible leak.
Sealing a Chimney Crown with Rubber
Often a Chimney will leak because the cement top has cracked or separated from the bricks. Instead of chipping away the old cement slab and pour a new one, we install a rubber membrane over the existing cement slab. We have used this method for many years with great success.
Quick demonstration how to make repairs on an EPDM Rubber and a Torch Down Rubber roof
Watch the video to see how easily it is to make repairs using simple tools on a flat roof. To make the necessary repairs, you need a little knowledge and the right material.
Window Sill and Window flashing should be check for a possible leak
Often the window sill can be rotten, or the flashing below the sill may not be intact. Always check if the siding is tight to the sill and if any water can get behind the siding from the window sill
Window Sill Cause of flat roof leak
Caulking a window can sometimes lead to more damage than good. In this image, someone tried to repair a leak by caulking everywhere around the window sill. This lead to water being trapped behind the caulking causing the window frame to rot out.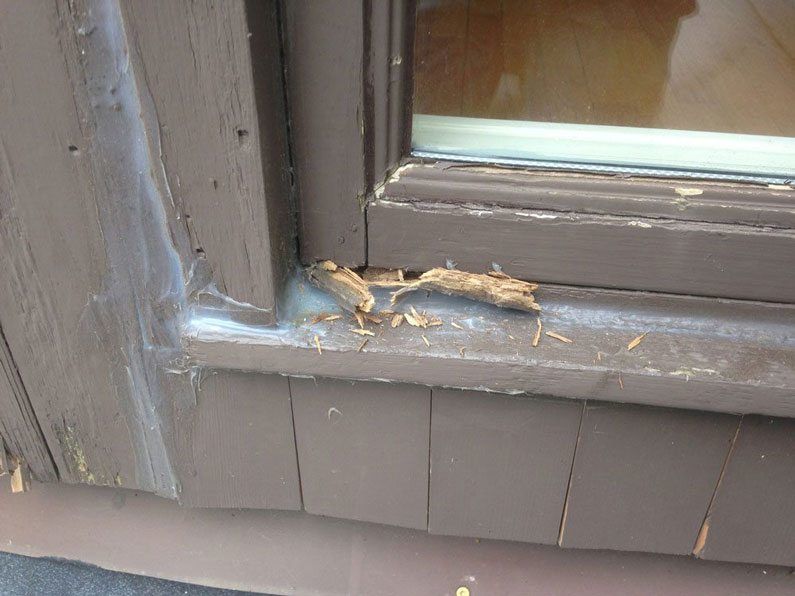 Entire window frame rotten
After opening the window we found the entire frame to be completely rotten. Instead of removing the window, we offered to repair it and make the best of it. This window was causing major leaks on the flat roof below.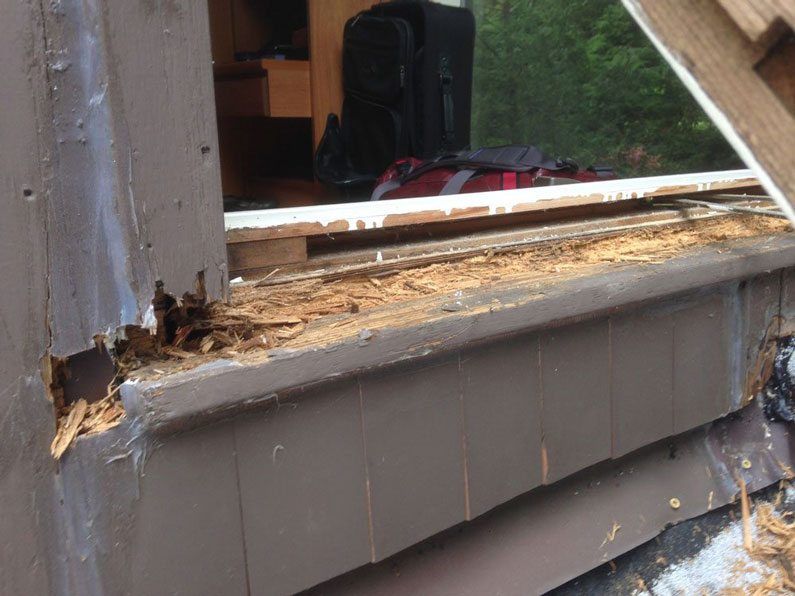 After removing rot from the window
After we removed the rot we installed a metal flashing over the sill covering it. This repaired saved the owner from replacing the window completely and it stopped the flat roof from leaking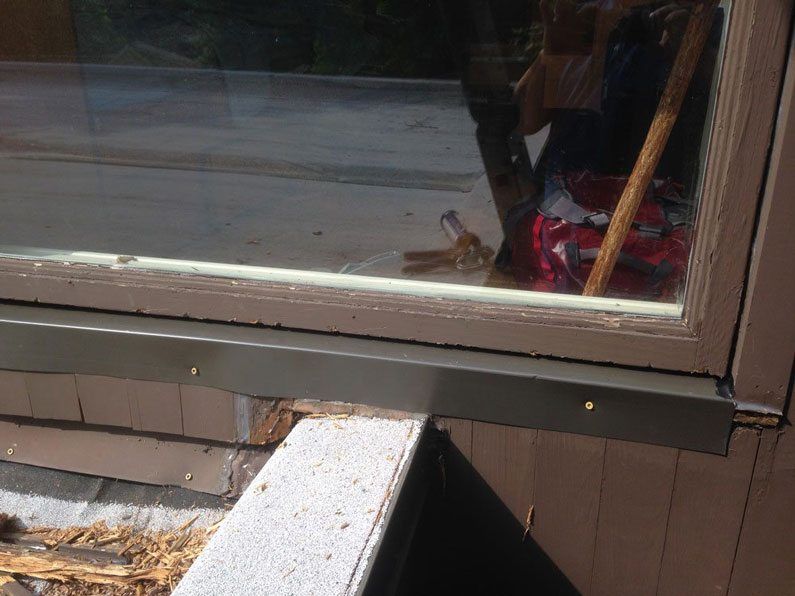 Residential Low Pitch Roof Leaking
When a novice roofer doesn't understand at what pitch is too low for shingles, then you will find him installing shingles on almost any surface, regardless of the slope.