When not to Repair a Flat Roof – serving Wilton, Weston and Ridgefield
We have been installing and repairing flat roofs in Connecticut for over 30 years. We claim that we can repair almost any roof. But when it comes to gravel roofs, we draw the line. Hot Tar Build-up Roofs gets too brittle and start blistering. These blisters can pop open anytime and cause a significant leak.
We serve Wilton, Weston, Ridgefield.
The Age of Hot Tar and Gravel roof is Critical
Anytime when a "hot tar and gravel roof" is over a certain age, it is not advisable to make any repairs. It is hard to tell how long such a roof should last. It all depends on how many layers of tar and paper was put on at the time of installation.
Tell-tale signs when a Tar and Gravel Roof is done
When the material shows black streaks over the roof that looks obvious.
The roof will bubble up and cause air pockets in some areas.
When the roof starts leaking in the middle where there are no other obvious reasons.
The rule of thumb is 20  to 25 years is the life expectancy.
The hardest part of replacing an old roof is to clean and repair the existing drains. it is difficult to remove the tar build up of numerous repairs over the years.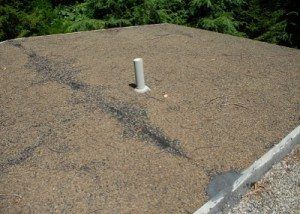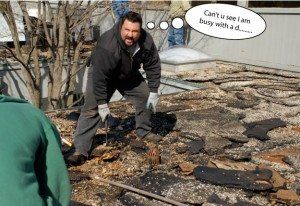 Before making a Flat Roof Repair, determine what type of roof you have
Help me with Google - please!
Click the 5 Stars at the top. If you have time write a comment at the bottom - Thanks
We have a technique that we can install a rubber roof over such a gravel roof at a relatively low cost provided the flashing is in good shape.
Most of the time flashing is made of copper and is well preserved.
The other factors would be skylights and other obstacles on the roof that could make it hard to reach the flashing.
The old roofs are fast being replaced by rubber roofs. There are several ways to go about replacing such a roof.
Most roofing companies would recommend to remove the old roofing material to the deck, which could be tongue and groove boards or plywood, and then install a new rubber roof. That is the preferred way to do it. It is also much costlier to do. More people are involved stripping the roof and removing the debris. A dumpster has to be ordered. Then the possibility of damaging existing flashing while removing the old roof is also a factor.
Most of the time we will recommend to install a rubber roof over and existing gravel roof. We have done this with most of out projects and it is perfectly alright to do so. The problem sometimes is if there are many skylights on the flat roof. Anytime you go over an existing flat roof, you need also to tie into the flashing of the old existing roof. That flashing is buried under the old roof surface and has to be exposed to adhere the new rubber roof to that.