Advantages Two Ply Torch Rubber Roofing – watch video
The video below describes Advantages Two Ply Torch Rubber Roofing – Watch Video. It is the best roofing material and method to install on commercial flat roofs, to date.  Like EPDM, MB has been around since the late 1960s. Unlike EPDM, the material is a modified asphalt, and single-ply bitumen membranes can be combined to create a two-ply system with which we offer a 40-year warranty.
Advantages of Torch Down Rubber Roofing:
 Designed to be flexible in extreme weather conditions

 2-ply rubber roofing membrane is about five quarters in thickness (about 3/8″) and puncture resistant.

 Rubber roofing surface has embedded granular ceramics that protect against harmful UV degradation
 Seams are torch fused together to prevent seam separation

 Installation over an existing roof surface, with minimal preparation, results in 2 advantages in this case:
Saves the cost of stripping and removing the existing roof

Fusing an additional membrane, over an existing one, creates a two-ply layer, that will last beyond 40 years.
Disadvantages of Torch Down Rubber Roofing:
Installation requires highly skilled roofing technicians.

Additional layer has an added cost of labor and materials.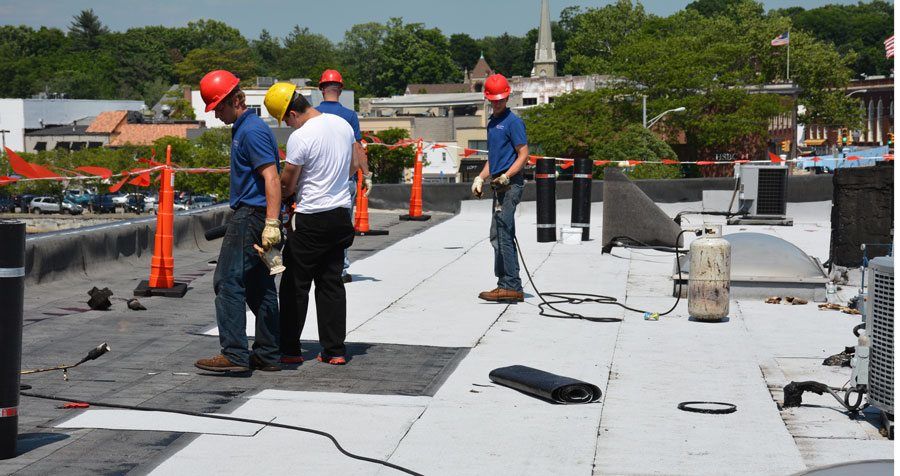 An image of a 2 Ply Modified Bitumen Rubber Roof we installed over 20 years ago. Notice that there have been repairs needed since it was first installed.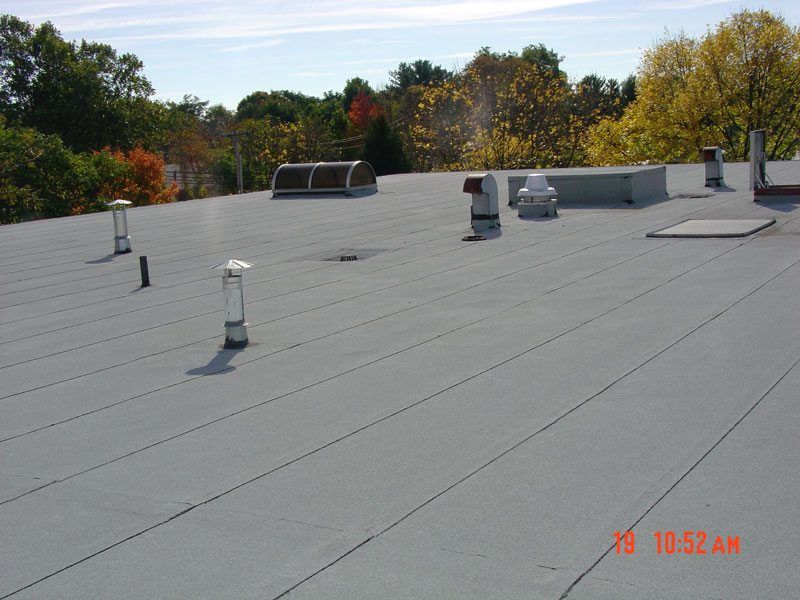 This image is another example of a Modified Bitumen 2-ply system that we installed. After 18 years, there are no signs of deterioration.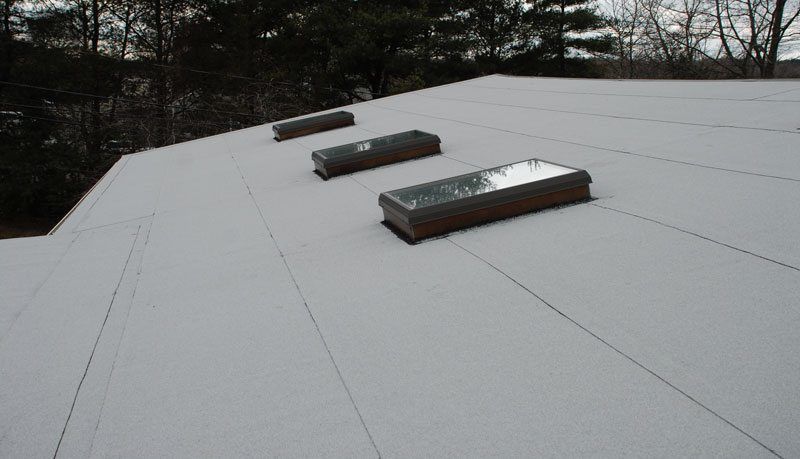 The image above was taken 15 years ago as I was when installing a 2 Ply Modified Bitumen Rubber Membrane. The black covering is the first layer called the Self-Adhering Base. The second layer is the Modified Bitumen Rubber Membrane-embedded with white ceramic granules.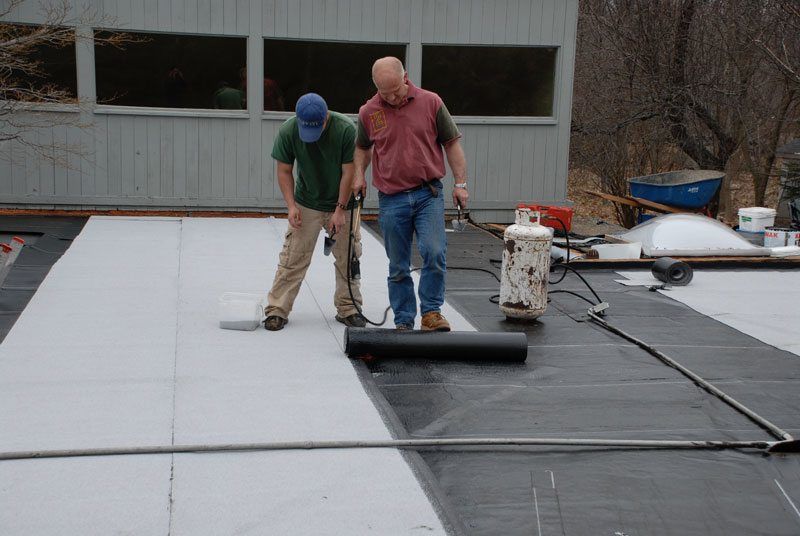 In the image, notice all the patched repairs. These repairs were on an EPDM Rubber Roof System that was less than ten years old. There were not enough rubber mats placed in appropriate traffic areas.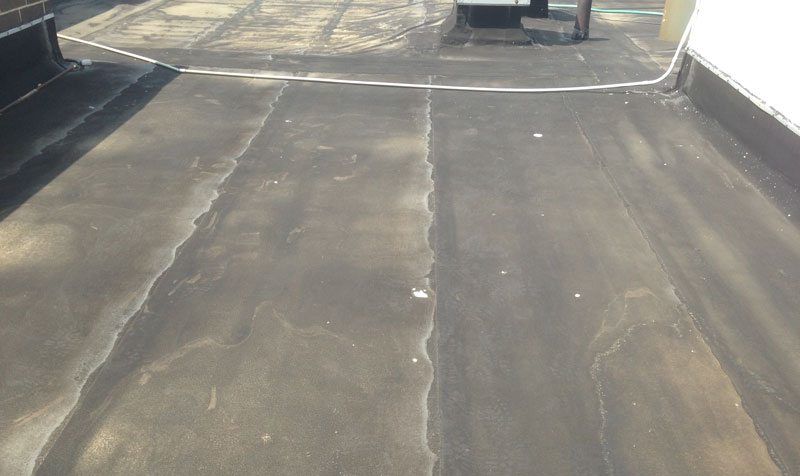 In the image above, we show that there is no need to strip away old roofing before installing a 2 Ply Modified Bitumen Torch Down Rubber Membrane.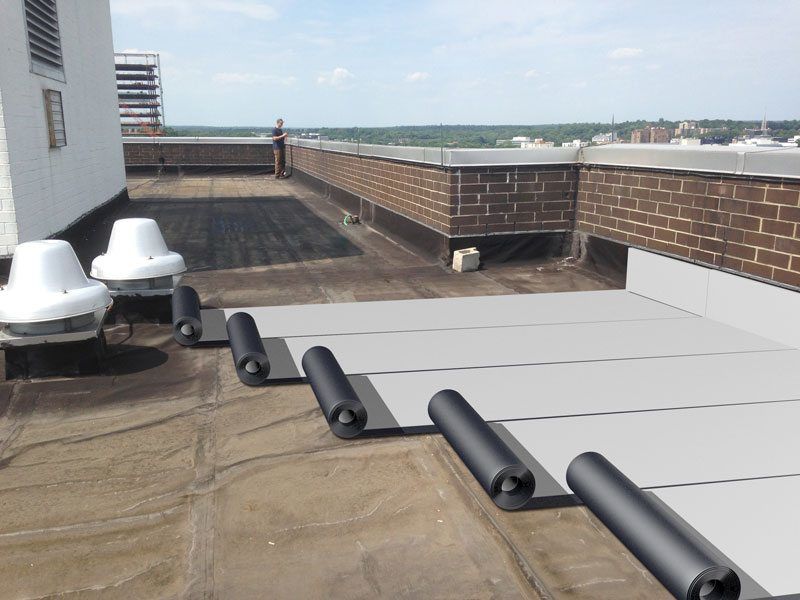 The image above shows part of the process for installing a 2-ply Modified Bitumen Torch Down Rubber Roof System over an existing Tar and Gravel roof.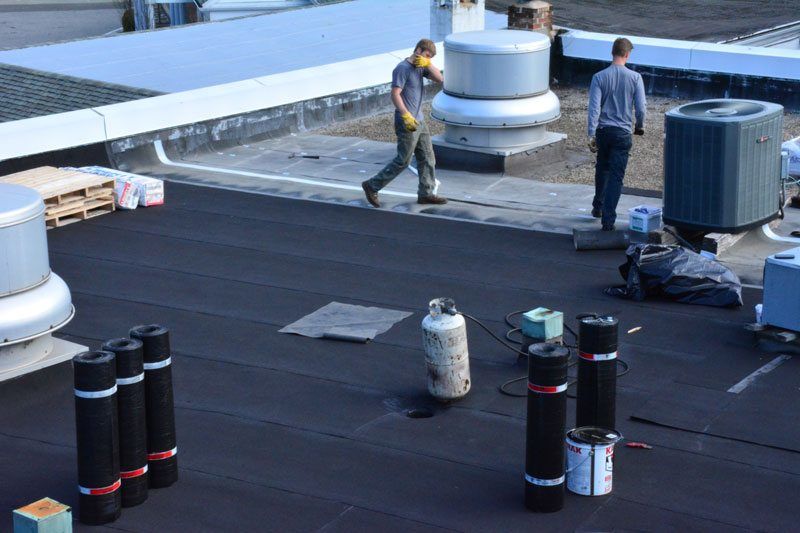 This Video shows how fast EPDM can deteriorate
Choosing a Roofing Company
There are many roofing companies. In your search for a flat roof contractor, you will find that EPDM and TPO quotes are quite appealing, but you will need to remember that those quotes are for single-ply rubber membranes that puncture easily, have adhesives that fail at the seams, and shrink and degrade from harmful ultraviolet light.