Turbo Poly Seal – the go-to product for any leak repair
We use Turbo Poly-Seal for 95% of all our leak repairs. This is an amazing product that consist of a mix of Polyurethane and bituminous resin. Turbo Poly-Seal combined with a fabric or fleece makes a perfect transition between different surfaces. It will adhere to almost any surface like metal, asphalt, bitumen rubber, TPO membrane, glass, concrete and wood.
Turbo Poly Seal can be bought online at https://bergstromm.com/product/turbo-poly-seal-roof-repair-kit-5-ft/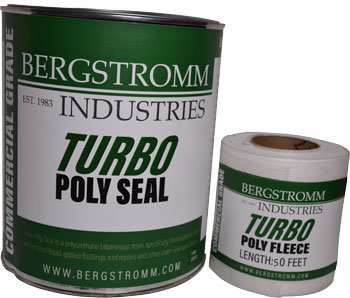 All types of roofs can leak
When it comes to flat roofs, rubber roofs, and metal roofs, the chances are there that it will spring a leak some day. Rubber gaskets that fail, rubber boots on vents that break up and flashing on skylights and A/C curbs is where most leaks start. Making repairs on these areas mentioned above becomes very easy with Turbo Poly-Seal.
Watch the videos to see how easy it is to make leak repairs
Here are several videos showing how we use Turbo Poly Seal on all kind of repairs.
We use Turbo Poly Seal for every kind of leak repair
In the next video you will see a repairs on skylights with Turbo Poly Seal. What makes this an outstanding product is that it will adhere to metal and glass, thus making it an perfect seal where glass and metal meat.
A Texan girl shows how to repair a leaky skylight
This is one of those very old skylights that have metal slats that holds the glass in place. most of the time water would get under these metal slats and cause a leak. To prevent this from happening, we used Turbo Poly-Seal to make a seal from the glass to the metal.
Repairing Chimney flashing with Turbo Poly Seal
When it comes to metal flashing on concrete or brick wall, the chances are good that the flashing will leak where the metal attaches to the brick. Often times we see people use caulking to seal the flashing to no avail. Watch this video on how we sealed the flashing on a chimney with Turbo Poly Seal.
We have other related articles on chimney seal with videos that you can watch here https://flatroofdoc.com/chimney-seal/
Metal Roof Repairs
This video is essential for all metal roof owners. This metal roof would have been destroyed in a few years if they did not take care of the problem. See how we made repair to the seams on this metal roof. We used Turbo Poly Seal and then coated it with Silver Paint to protect the Turbo Poly Seal from Ultraviolet Rays.
Caulking and flashing does not go well together
When making repairs on flat roofs, it is essential to use the right products for the job. Most repair men and owners will use caulking they bought from Home Depot or Lowes. This is the worst kind of roof repair anyone can do. Flashing on flat roofs causes the most leaks on any roof.
We use Turbo Poly Seal instead of caulking to make the transition from flashing to a wall, stucco and other objects. Watch this video how caulking was the problem and then how we made the repair from flashing to a wall.
Fixing the Underground House concrete walls fro leaking
Watch this video to see how we showed the owner how he can stop his underground house from leaking. The membrane that was protecting the concrete were compromised when rodents ate at the transition and broke the seal.
Will Turbo Poly Seal adhere to glass?
Yes, Turbo Poly Seal adheres to any material except EPDM Rubber
Can I apply Turbo Poly seal over caulking?
Yes, you can spread it it over caulking as long as Turbo Poly Seal is adhering to a solid clean surface on both sides of the caulking. We sometimes leave the old caulking in place as a filler for the gap.