On this page are the two products we use daily to repair roofs. We use both Turbo Poly Seal and Super Silicone Seal to make repairs on metal roofs, rubber roofs, and chimneys. Each product has its benefits. We believe that Super Silicone Seal by Bergstrom Industries outperforms all other brand names.
Watch this video to see how we used Turbo Poly Seal to save a metal roof from a disaster. In this video, we used Turbo Poly Seal, but we could have used Super Silicone Seal too, they both perform equally well. The advantage of Super Silicone Seal is that you don't need to coat it with a protective coating against ultraviolets.
Turbo Poly Seal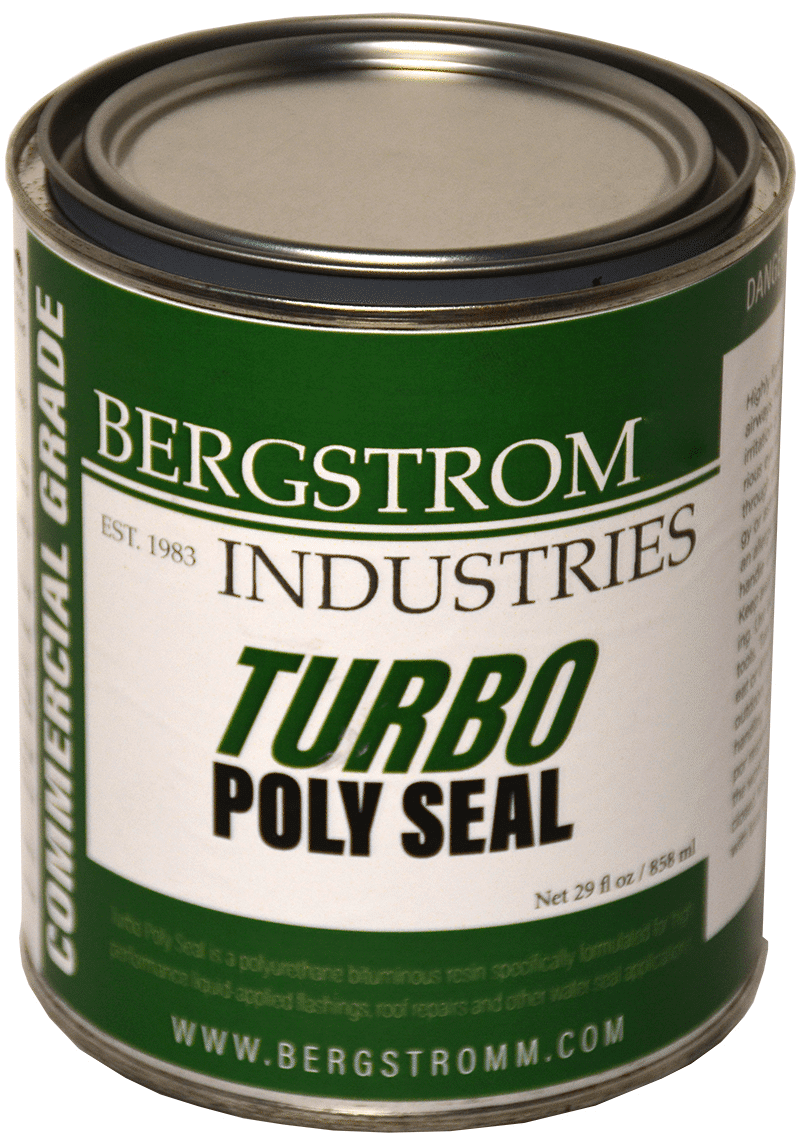 Turbo Poly Seal is a combination of Polyurethane and Bituminous resins specially formulated to be flexible to withstand stress when applied over cracks, seams, and metal surfaces. This product can be purchased at Bergstrom Industries
There are many applications where Turbo Poly Seal can be used:
Chimney Crowns
Flashing detail
Metal Roof Seams
Cement Cracks
Concrete Cracks
Vent Pipe Flashing
Torch Down Roof Repairs
Asphalt Roof Repairs
Roof Drain Repairs
Copper Seam Repairs
Turbo Poly Seal comes only in brown. This product is applied with a paintbrush and should be used in conjunction with a polyester fleece that is part of the kit when purchased. Turbo Poly Seal does not have a shelf life after the can is opened.
Warning: Turbo Poly Seal is not compatible with EPDM Rubber and should not be used on EPDM Roofs.
Super Silicone Seal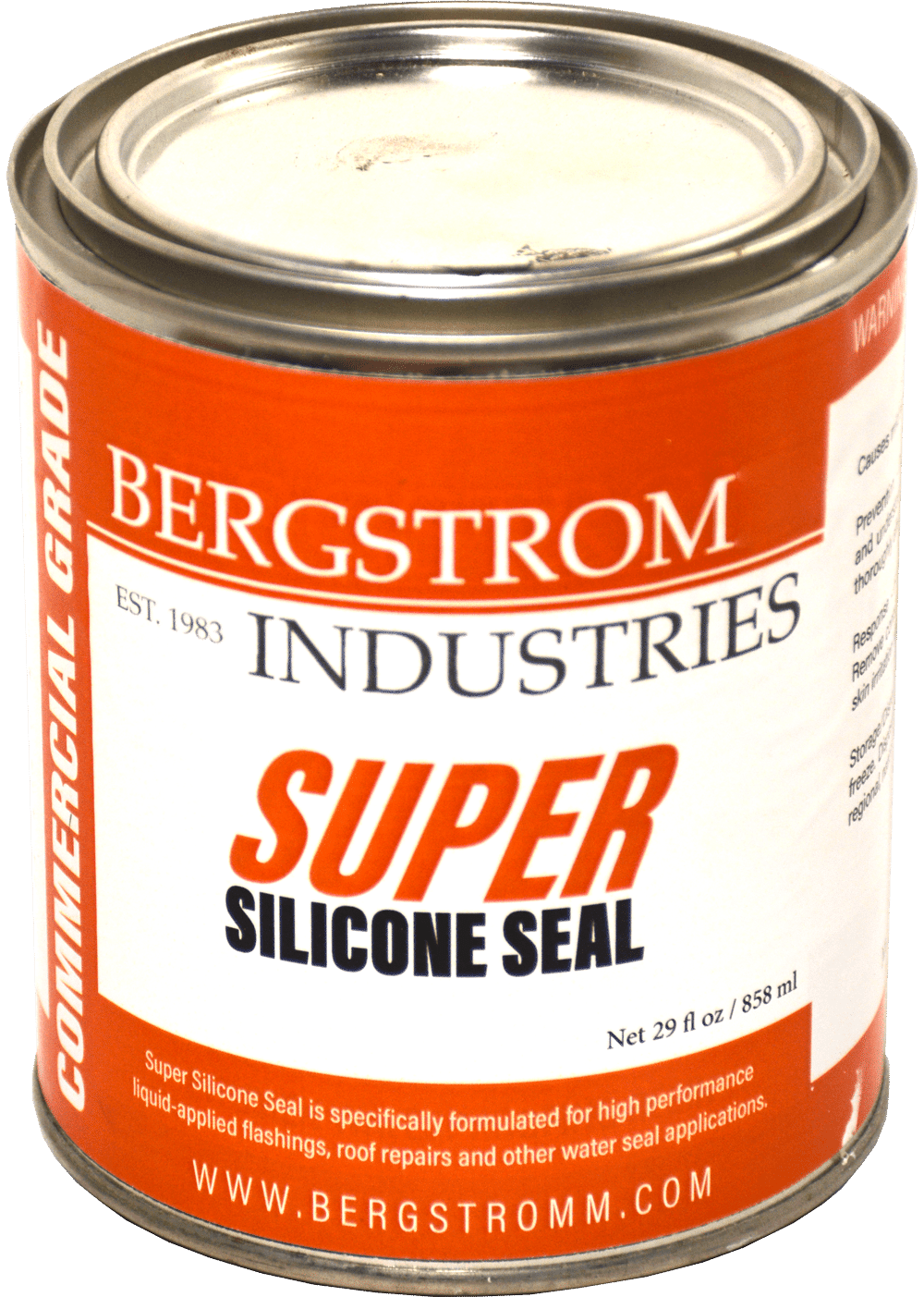 Super Silicone Seal is a silicone-based product specially formulated for EPDM Rubber Roofs. This product can also be applied to other surfaces like Asphalt and Torch Down Roofs. This product can be purchased at Bergstrom Industries.
Super Silicone Seal performs well when applied to EPDM Rubber and other roofs. It will protect against ultraviolet, reduce heat by 70% and seal seams and other leaky areas.
Uses for Super Silicone Seal are:
EPDM Rubber Coating
Asphalt coating
Torch Down Coating
Metal Roof Coating
Metal Roof Seam Repair
EPDM Rubber Seam Repair
Metal Flashing repairs
Super Silicone Seal comes in white only. It is non-toxic and has a shelf life of several weeks after the can is opened.
Super Silicone Seal can be applied with a roller or spray gun. When repairing transition seams then a polyester fleece must be used.
Repairing seams and cracks with Turbo Poly Seal or Super Silicone Seal
It is important to always prepare the surface. Make sure there is no oil, silicone caulking, sand or other debris.
Follow these steps to ensure proper repair:
Use a steel wire brush to scrub the surface. (remove dust)
Use masking tape to tape off 21/2″ from either side of seam or crack (optional, but looks clean when done)
Measure and cut the correct length of fleece
Brush 1 thick coat either the Turbo Poly Seal or Super Silicone Seal on both sides of crack or seam
Embed the polyester fleece into the freshly painted coat (make sure there are no wrinkles)
Apply another coat over the fleece making sure the fiber doesn't show
Remove the masking tape
Congratulation, you just made a successful repair
Watch this video on Super Silicone Seal
In this video, you will see that the temperature on an EPDM Rubber roof can reach up to 185 degrees. You will also see how well the Super Silicone Seal bonds to the EPDM Rubber and how flexible it is.
This video will convince you of the need to coat your roof to extend the life expectancy and to lower the heat index on any building.
If your roof has had its days, you should really watch the video above to understand how this Super Silicone Seal can extend the life expectancy. There are many silicone products on the market, but after testing many of them, Super Silicone Seal had the best results.
Watch these videos on how to make repairs on many different parts of flat roofs