Silver Coating or Aluminum Coating to protect flat roofs against Ultraviolet rays
Karnak is the best brand name for Coating a Flat Roof Membrane to protect against Ultraviolets
Make sure the roof is well prepared before applying Silver Coating to a Torch Down Rubber Membrane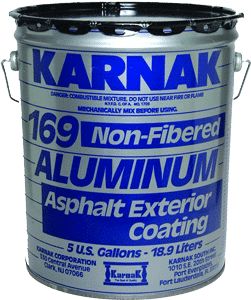 Article and Video about:
A video explaining the "Silver Coating"
Advantages and Disadvantages
Stone or Rock used for UV protection
Embedded Ceramic Granules for coating
How to apply the coating to a rubber roof
Silver Coating or Aluminum Asphalt Coating
Silver Coating or Aluminum Asphalt coating is painted on old Build-up Hot Tar roofs and also on Modified Bitumen Torch Down Rubber membranes. The purpose of this coating is to protect the roof from harmful ultraviolet rays.
The benefit of The Aluminum coating is:
The paint reflects most of the sun and therefore doesn't get as hot. saving on A/C expenses
The paint will double the life of the roof
Causes less maintenance cost over its lifetime
Warning!!  Do not use Silver Paint to seal a leaky rubber membrane or an old Hot Tar Roof.
Fix the leaks first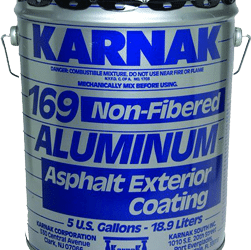 The question is which brand Silver Coating to use when it comes to protecting your roof against Ultraviolet. Silver coating is an asphalt base liquid that has aluminum flakes mixed into it. These aluminum flakes give it the appearance of silver thus the...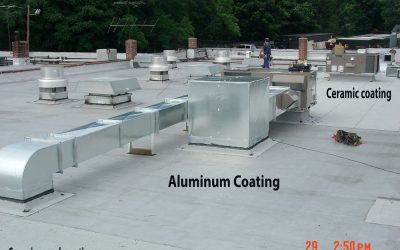 Silver Coating or Aluminum Asphalt Paint Sealant on Rubber Roofs Silver coating or Aluminum Asphalt paint is used to coat  Asphalt based roofs to protect against ultraviolet rays. These roofs are the old Hot Tar roof systems and then also the Modified Bitumen...