Metal Roof Recovery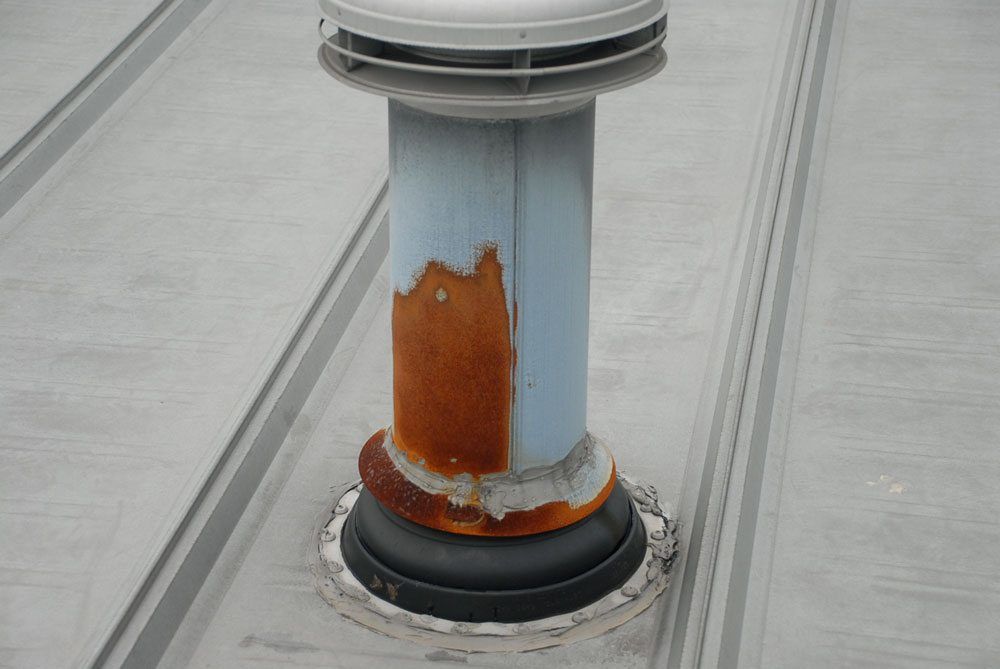 Based on the research conducted by Metal Building Manufacturers Association (MBMA), it showed that in the U.S, pre-engineered metal buildings constitute over half of all the latest, low-rise one- and two-story, none- residential structures. Based on this vast quantity of constructions with metal roofs, there are also numerous metal roofing problems that are present.
A conventional metal building roofing system includes a 24- to 26-gauge coated steel roof panels installed on purlins (structural steel members) that comes in a variety of 14 to 18-gauge in thickness. These purlins are usually cold-formed "C" or "Z" members installed 5-ft. On the middle. With the use of screws, metal roof panels are firmly locked on the purlins; while in standing-seam metal-panel systems, hidden clips are secured to the purlins. These screws are not just mainly used to lock the panels; instead, they also serve to 'stitch' the panels altogether at the sides and end laps. On the other hand, rubber or neoprene washers are installed beneath the fastener heads, and then a sealant or tape is applied to waterproof the panel side laps and end laps. A Caulk or tape is typically inserted to fashion a hydrostatic joint.
Metal roofs that are over ten years old are more likely to suffer from failure due to some causes. One well-known area of weakness is found at the end and side laps of the metal panels where the initial butyl tape or caulk seals get old and collapsed. Fasteners are also a metal roof's weak spot. This is because metal structures tend to get bigger and contracted due to temperature changes; hence leading to enlarged fastener holes and causing ruin to the fastener seals, which then allows water into the building. Further metal roof repair issues are that of the side, and end laps of the panels since Caulks and sealant applied in these corners gets typically weaken, or the sealant is gone, subjecting the structure to weather.
Other factors that account for the need for metal roof recovery include insufficient drainage; poor workmanship or low-quality materials, poor design and detailing, as well as tattered coatings on metal panels.
In an attempt to properly conduct a metal roof repair which includes an old or leaking metal roof, those faulty panels must be taken away and restored. Moreover, every fasteners and flashing must be regularly inspected and get replaced as needed. Doing this repair project is not only expensive but will also cause a loss of valuable business hours since it's time-consuming. Sometimes, it's more practical to replace the damaged roof instead or to retrofit it with BUR (built-up roofing), single-ply membranes, coating systems or new metal roof panels. The following are five options available when dealing with a leaking metal roof issue: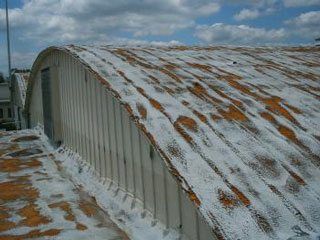 Metal-roof Replacement
The old metal roof will be removed and replaced with a new one; hence it's very costly and is normally done in cases wherein it's unlikely or no longer possible to restore the existing, metal roof. Although this is the most expensive out of the 5 options, the benefit of it is that the owner of the construction can start fresh with a brand new roof. The known disadvantages of this option are that it's pricey (roughly of $10 per SQ. ft), cause disturbances to building users or business, and the probability that this new roof will once again experience similar issue just like before which will call for another costly replacement.
If the roof is sturdy enough to endure the additional weight, a metal roof recovery – which involves the installation of new metal roofing over the existing one – is a great option. Despite the fact that a metal roof recover presents similar durability and advantages found in the original metal roof, it is still susceptible to the same issues that originally caused the original roof to weaken, plus this option is also expensive.
Coatings or Liquid-applied Systems
Polyurethane-foam Recover
This option uses sprayed polyurethane foam that is directly applied to the existing metal roof, in a manner just like how a coating is applied. Following the replacement of damaged panels and fixing of surface corrosion, the foam is normally sprayed/applied in a number of passes to attain a thickness of at least 1 in. A special surface coating is then applied to the metal roof, safeguarding the foam from any ultraviolet damage. The benefit of spraying a polyurethane foam is that it can add R-value to the metal roof, plus it does not call for reinforcing fabric at the laps and fasteners. However, the foam's inability to accommodate thermal expansion and contraction very well, including its uncertain weather ability are some of the disadvantages.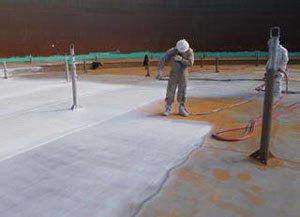 This is a very expensive method to recover a metal roof. First, ou fills the valley's with fiberboard and then you add another layer on top of that before you install the rubber membrane.
A single-ply membrane, like that of a hot-air weldable TPO (thermoplastic polyolefin), will be installed over the existing metal roof. Prior to installing this system, damages metal panels must be replaced first. Once the replacement is done, strips of insulation are then installed between the ribs or flutes of the existing metal roof surface, followed by a second layer of insulation which is installed over the entire roof to give a uniform and level substrate. This insulation will enhance the R-value of the roof, as well as bring a strong substrate for the single-ply system. The hot-air weldable membrane is then automatically secured or completely adhered directly over the insulation, while the seams are merged altogether with the use of hot-air. A mechanically fastened system is held to the structural purlins with fasteners.
Some advantages of using the single-ply option in metal roof repair include reducing cooling costs since membranes are available in white or light colors. TPO membrane is flexible, enabling it to accommodate the movement that is natural in metal roofing, including any plane changes in the roof. Another benefit is that the cost of added insulation is already included in the total cost of the roof installation, which is typically similar to the cost of applying coatings. Moreover, these single-ply systems are usually not as sensitive to weather conditions as coatings during the installation procedure. Lastly, compared to roof coatings which normally only offer a 5- to 10-year maximum warranty period, some single-ply systems installed over metal roofs come with a 20-year warranty.
Deciding on how to recover, replace or repair a failing metal roof is not easy, sometimes confusing too. Knowing which ideal solution to have will surely help enhance the value, look and efficiency of construction in a long period of time; that's why it's essential that you know which metal roof repair or metal roof recovery option to get.