Incorrect Flashing causes the most Roof Repairs
Roof repair and flashing are synonymous in the roofing industry. Flashing is the most important component of a flat roof. There is almost no commercial or residential roof that does not have flashing.
What is flashing?
Flashing is usually made from metal, copper or aluminum, that is used to make the transition from a roof to an object or a wall. These objects can be vent pipes, skylights, Air Conditioners, drains or anything that has to penetrate the roof.
In older style roofing systems, the roofing material was attached to the metal flashing horizontal to the roof and the object that penetrates the roof would be covering the metal flashing vertical to the object.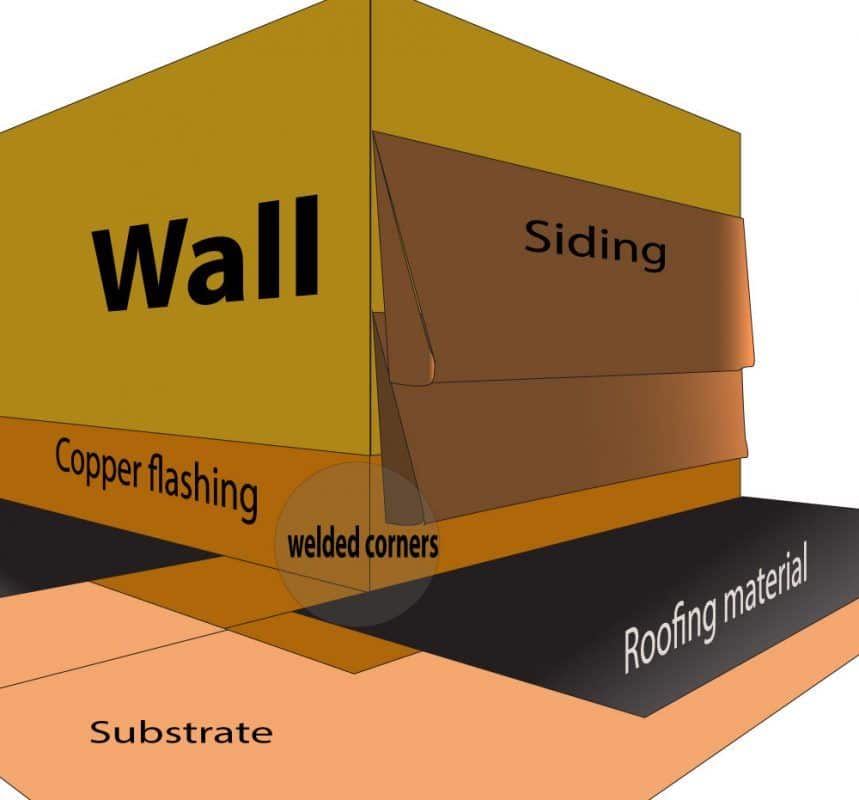 Metal flashing not used by most roofing contractors
When the rubber roof systems were introduced, the installers tried to follow the conventional techniques to attach the rubber to the metal flashing. This became a nightmare because the adhesives or techniques used to attach to metal did not last that long before causing leaks. This cost many building owners a replacement of a roof long before the life expectancy was over.
Many roofing contractors then decided to by-pass the metal flashing and use the membrane itself as flashing. There are many flat roofs installed today, that don't have metal flashing on skylights or walls. This created a new problem. When siding or a skylight had to be replaced, because of the rubber being attached to the object, the roof was compromised.

Before making a Flat Roof Repair, determine what type of roof you have
Help me with Google – please!
Click the 5 Stars at the top. If you have time write a comment at the bottom – Thanks
Metal flashing is still the best practice
EPDM Rubber Roof systems have the biggest failures in metal flashing transitions. The adhesives that are used to bond the rubber to the metal fails prematurely causing a separation between rubber and metal. Most roofing contractors advocate the installation of EPDM Rubber Roofs. They overcame the flashing problem by running the material up the side of the wall or skylights.
This causes a vulnerability in the roof because whenever a carpenter has to replace siding or stucco has to be replaced or a skylight has to be replaced, the EPDM Rubber is compromised.
Our proven secret method using metal flashing
When we started flat roof repairs and installation more than 20 years ago, this flashing was our first major headache. It took us over a year to understand the problem and then another few months to come with a solution. We finally found a product that could bond our torch down rubber to any metal under any circumstances. With this product, we could re-use existing metal flashing or install new flashing. This is why we still today prefer metal flashing on all our roofs. There is no better roofing system than that of a 2 Ply Torch Down with metal flashing.
Making Roof Repairs where Flashing is involved
Roof Repair and Flashing
When a roofing material was used for flashing instead of metal, then it's best to use a product compatible with the roofing material to make the roof repair.
EPDM Rubber Roof Repair and Flashing
In the case of EPDM Rubber, it is best to use the manufacturer's adhesives and cover tape with special caulking called Lap Sealer. EPDM Rubber is vulnerable to ultraviolet rays and will need constant maintenance in roofs life.
Check out the product here RubberGard™ EPDM Sealants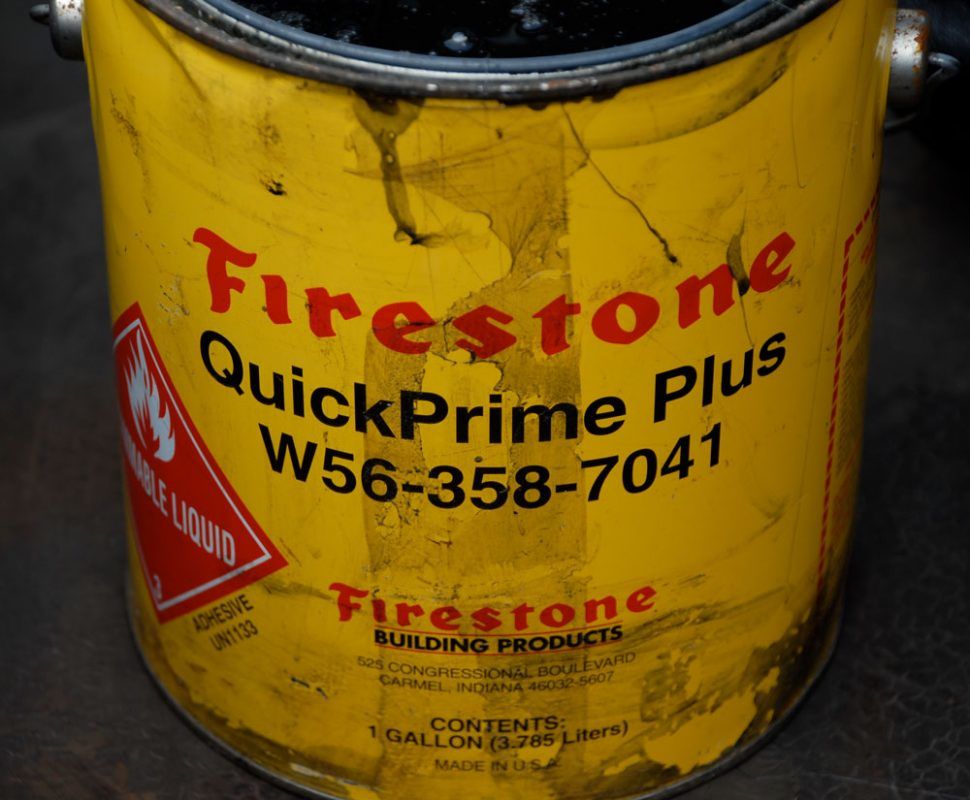 Modified Bitumen Torch Down Roof Repairs and flashing
In the case of Modified Bitumen Torch Rubber membrane, making a roof repair around flashing could be as simple as using some tar and a trowel. It is important not to use a knock-off brand of tar but instead Karnak 81 Trowel grade. This makes roof repairs easy and very cost effective.
We don't suggest any other brand. We have tested and tried all kinds of tar to be used for roof repairs, and Karnak 81 is the only one that worked as intended.
The Modified Bitumen Rubber and the Karnak 81 trowel grade tar are compatible with each other. Most roof technicians do not know about this product and that's why they can not make proper roof repairs around flashing.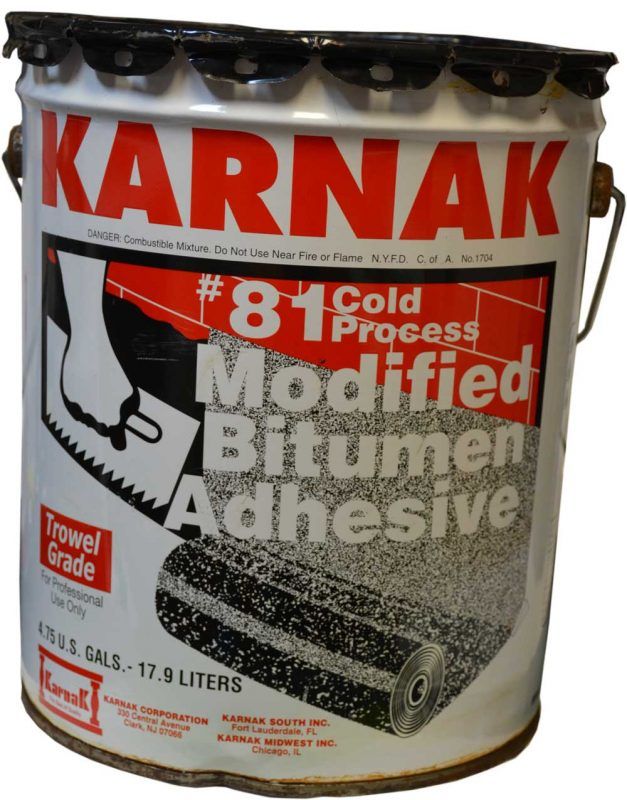 Problems most roofing technicians encounter when making roof repairs on flashing and other areas of the roof
The installation of a rubber roof is relatively simple. Most inexperienced roofers can handle straightforward surfaces. It becomes tricky when you have to deal with other elements like vent pipes, chimneys, flashing, skylights, air conditioners and doors leading out to a roof.
One of the common areas where a leak originates is from the siding or flashing under the siding. Very often the roof installer will not know how to handle the transition from the roof to the wall, which involves flashing.
If it's a new roof install, then it's pretty straightforward. The membrane is attached to new flashing that is to make the transition from the roof to the wall. When it comes to re-roofing, then most roof technicians have no clue what to do. Most of the times they would just go over the original roof surface and stop their new membrane on top of the old layer that's attached to the flashing. That's where their problem starts, removing roofing materials from flashing. Then the flashing, if still in good condition, must be adequately cleaned to receive the new membrane.
This Video shows that roof repair was needed due to the lack of proper flashing.
Watch the video
Another Video showing why it is important to install flashing properly.
Most roof problems start at flashing. Not every roofing technician have the experience to understand flashing well. As mentioned before, the adhesives fail or the technique that the manufacturer has described on how to attach the material to flashing doesn't last either. That is why we had to find a solution early in our roofing career.