This page guides you to check areas on a flat roof for leaks:
This is the list of possible roofing objects that can cause leaks:
Flashing repairs
Repairing flat roofing
Vents on flat roofs
Select the type of Flat Roof Material you are interested in and see how to make the proper flat roof repairs.
Click here to determine what flat roof material you have.
When you want to make a flat roof repair, then it is important that you get the right materials and tools for each different flat roof material. Using the wrong products can ruin the roof membrane and become more costly later on to repair it.
Where to look for leaks on flat roofs – Video 1
This video makes it clear where you should focus on to find leaks. Finding the problem is harder than fixing it.This goes for all flat roof repairs.
After finding the problem, repairing a flat roof leak it is easy – Video 2
Watch this video on how easy it is to make any repairs on almost any roof. The important thing to remember is that most flat roof leaks stem from flashing. So, look for flashing issues on skylights, vent pipes, walls, and chimneys.
There are many Home Depot's and Lowe's as well as Roofing Supply Warehouses to buy products from to make roofing repairs. Make sure you always buy the highest quality roofing materials to make the necessary flat roof repairs.
Warning: Never buy Tar or "Roof Cement" from Home Depot or Lowe's. The brands they carry will make more a mess than fix your flat roof. Here is a list of brand names to stay away from:
Henry Asphalt Roof Cement
Gardner Flexx-Bond Rubberized Roof Coating and MB Adhesive
BLACKJACK 4.75-Gallon Fibered Waterproofer Roof Sealant
I provide you brand names that are best to buy in the Flat Roof Repair Guide.
DIY Flat Roof Repair Checklist
Step 1 – Determine what type of flat roof repair you need to make by determining the roofing materials – is it an EPDM, TPO, Tar, and Gravel or a Torch Down?
Step 2 – Find out how old the roof is – EPDM, TPO do not last much longer than 15 years. Torch Down can continue indefinitely
Step 3 – Look for apparent problems around vents, drains and other objects
Step 4 – Check the pitch pockets, flashing, cracked skylights, storm damage, holes made by flying debris from a storm
Step 5 – Clean or wash the roof to expose issues easier
Step 6 – Clean out drains and gutters regularly
Step 7 – Apply compatible sealant where holes, cracks are visible causing leaks
Step 8 – Replace broken skylights and vent boots
Step 9 – Find an experienced roofer – not a handyman, to make the necessary repairs
Home Depot and Lowe's in Pennsylvania have Sub Roofing Contractors that could be available if you needed an experienced flat roof repair person.
This Video is about "How to Repair a Flat Roof" that has a Torch Down Rubber membrane. Follow the links to see how to make flat roof repairs on different roofing materials. In Pennsylvania, all three types of roofing systems are commonly used.
This video shows how a pitch pocket could cause a leak in a flat roof. Pittsburgh
It is not always easy to locate what causes a leak on a flat roof. From experience, we know flashing against brick walls, chimneys are very susceptible causing leaks and also Pitch Pockets on commercial roofs are know for causing leaks. Watch the video to see how to look for a leak and then what you are supposed to do to fix a flat roof leak.
There are many flat roofs in Pittsburgh that have Pitch Pockets. How to Fix Leaks of on Flat Roofs guide will be a great help.
How to "Repair a Flat Roof Guide" – Follow the Instructions and make a list of things to do
Flat Roof Repair can be as easy as using s little caulk or tar. Finding the leak can be a problem. Look for the obvious. Things that can be obvious are places like flashing, vent pipes, drains, skylights. It should be relatively easy to spot a problem if there is a leak.
When it comes to seams, then it is harder to find a leak in the roof. This takes an experienced eye to detect a leak.
A list of places to look where a possible leak on the flat roof can occur:
Flat Roof Repairing is easy to perform once you have located the problem area. Very few tools are required to make a flat roof repair and the cost of repairing is minimal.
1. Skylights on flat roofs
Making Skylight Repairs on a flat roof can be tricky. Here are a few tips where you can begin. Check the following on a skylight:
Skylight flashing – make sure that the rubber membrane has not come loose from the metal flashing. In some cases, the rubber membrane is the flashing as well and is tucked underneath the skylight frame. In other circumstances, the membrane is attached to the skylight flashing. Pull up on the membrane and see if you can lift it from the flashing. It should be tight and secure
Skylight Dome and Frame – when the glass or plexiglass dome of the skylight is secured with a metal frame, then it is likely that the rubber gasket that seals between the glass and the frame has dried and cracked
Corners on skylights – In many cases where the rubber membrane is galvanized around the corners of the skylight, can cause leaks due to the seams separation
Cracked Plexiglass – The plastic or plexiglass domes on skylights crack due to ultralight exposure
A List of Manufacturers of Skylights: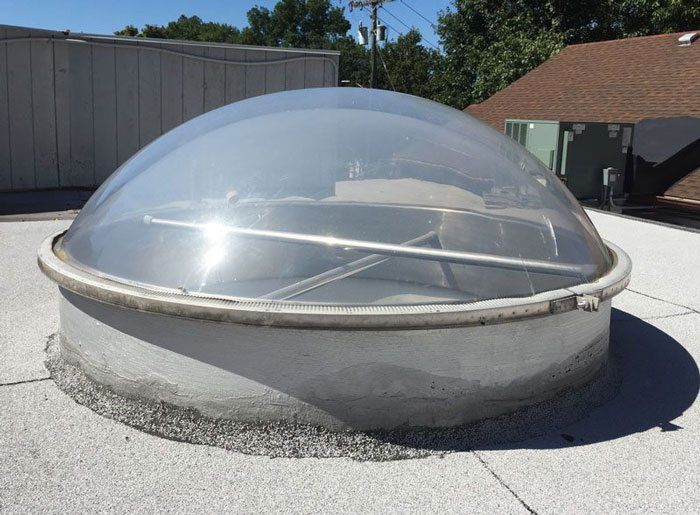 Wasco is a skylight manufacturing company and has agents that sell their skylights in Pennsylvania. The image above is a Round Domed Skylight made by Wasco.
Here is a list of Wasco Skylight dealers:
Allied Building Product
Pittsburgh – 38.97 milesTel: (412) 771-1110Akron – 120.52 milesTel: (330) 622-4173Leesburg – 128.16 milesTel: (703) 779-2030Gaithersburg – 142.37 milesTel: (301) 294-1960Rockville – 144.68 milesTel: (301) 294-461111 Ann St Oakmont, PA 15139-2004, United States
412 828 1016
Brookside Lumber & Supply
500 Logan Rd Bethel Park, PA 15102-1514, United States
412-341-3600
2. Bathroom Vent pipes – Flat roof repairs
Vent pipes piercing through a rubber membrane can become the cause of a flat roof leak. The rubber gasket or "roof boot" deteriorates over time and crack causing the leak.
Check the "roof boot" around the vent pipe
Check the rubber membrane and seams that attaches to the metal flange of the "roof boot"
Sometimes the "tar" that is used to seal the pipe to the rubber, gets dry and crack, causing the leak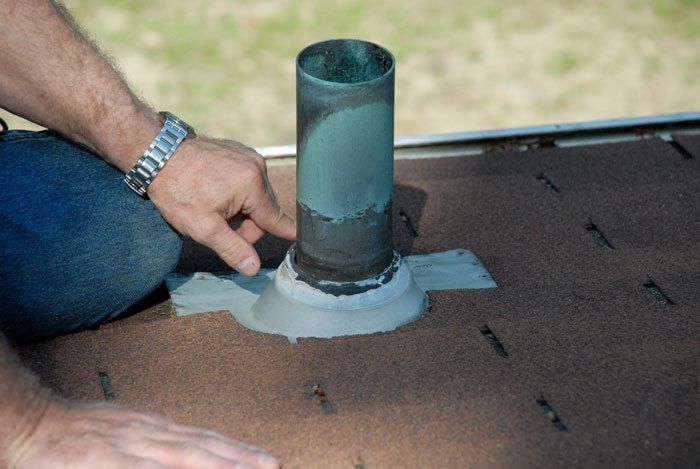 Bathroom Vent pipe with a Roof Boot – To make a flat roof Repair, you need to identify the leak areas. The vent pipes are prone to leak.
3. Pitch-Pockets on flat roofs causes leaks
A Pitch-Pocket is a bottomless container that is placed on a flat roof where airconditioner pipelines and wires are fed through. After the wires and pipes are fed through, the container is filled with liquid "tar" or roof cement to seal around the wires and pipes.
Check the pitch-pocket and see if it is full to the brim with tar. Many times this tar will dry and shrink and cause a low spot in the container. When it rains, this low spot will collect water, and water will eventually leak through where the wires and pipelines are.
Check the foam insulation that covers the pipelines. This foam deteriorates and causes openings where water can leak through the Pitch-Pocket.
As a precautionary step, these pitch-pockets should be filled to the brim at least once a year.
When looking for a leak on a flat roof, always check the pitch pockets to see if the tar in them is filled to the brim.
Flat Roof Repairs can easily relate to a Pitch-Pocket that has wires and pipes going through it, and all you need to do is make sure the insulation foam around the pipes is not the cause of the leak.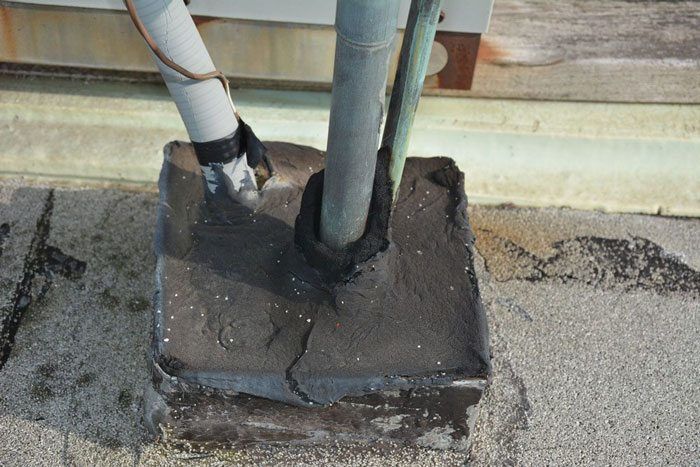 An Example of a Pitch pocket with Tar. Notice the foam insulation around the pipes is all torn. This cause leaks on flat roofs
4. Flashing on flat roofs causing leaks
Flashing is probably the biggest cause of flat roof leaks. Many roof technicians will not take their time and make a proper flashing transition from a rubber membrane to flashing. This can be attributed to lack of experience or did not charge enough for the job.
Locating flat roof leaks – This video points out how counter flashing, if not done right, can cause a leak.
Counter flashing – whenever flashing is used where a roof meets a wall, there must be proper counter flashing. Counter flashing is when siding or stucco or any other methods are used to cover the flashing from the top side. One should never be able to see the edge of a flashing. The vertical section should be covered by stucco, wood siding, or even other metal. The horizontal part that lies flat on the roof, should be covered by the rubber membrane.
Test the rubber adhesion on the metal – try to pull the rubber membrane away from the metal, if it comes up easily, then that could be the cause of the leak.
Check for cracked stucco or siding – If the siding or stucco has cracks in it, then the counter flashing is compromised.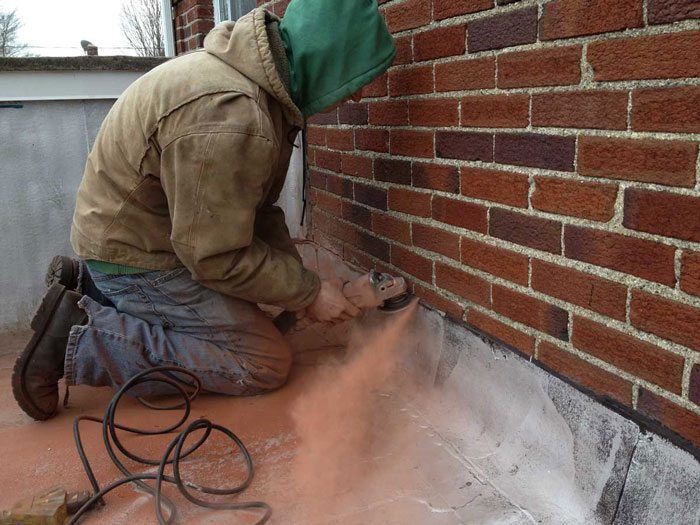 Installing Counter Flashing – To fix the roof leak on this flat roof we had to install counter flashing. We used an angle grinder to cut a slot into the wall where the metal flashing can be inserted.
Flat Roof Repair – Installing Counter Flashing
The brick wall in the image shows that the membrane was brought up the wall about 12 " high. They then adhere to the roofing membrane to the wall. This way of making flashing doesn't work. The membrane will eventually pull away from the wall. We cut a slot into the brick wall at a 30 degrees angle.
After the slot was cut, we inserted a metal counter flashing that hang over the membrane. This is what counter flashing is and how it is done.
Flat Roof Repairs mostly involves flashing on flat roofs that were not done correctly.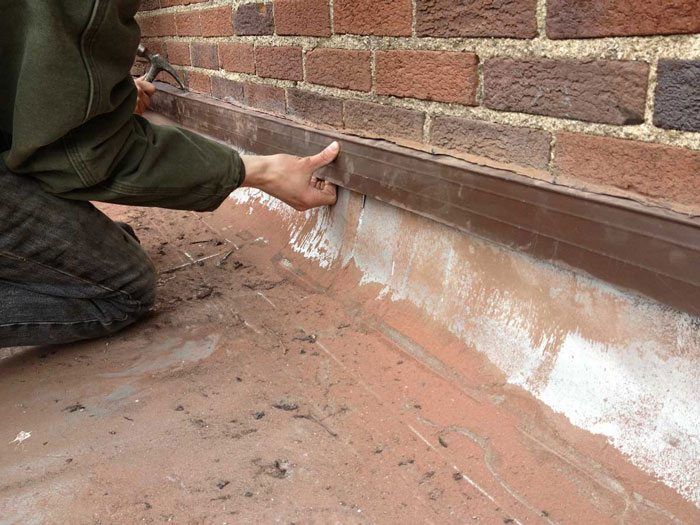 Counter Flashing Installed – After cutting the slot into the brick wall, a metal flashing was inserted into the slot and that went over the membrane to cause the flashing. Philipsburg, PA
5. Chimneys – the Cause of Flat Roof Leaks
The counter flashing on chimneys is always a problem with chimneys. Many times, the counter flashing has to be embedded in the stone or brick wall. This is where most people don't get it right.
Check if the sealant that is used on the counter flashing still holds
Check if the counter flashing is still intact
Check for cracks in the chimney
Inspect the chimney crown – This is the topmost part of the chimney – Most of the time, these cement slabs crack and causes leaks.
Make sure the rubber membrane is properly attached to the flashing on the chimney.
In the image, notice where the metal flashing meets the cement grout. That little crack is where water leaks from on a flat roofMore on Chimney Repairs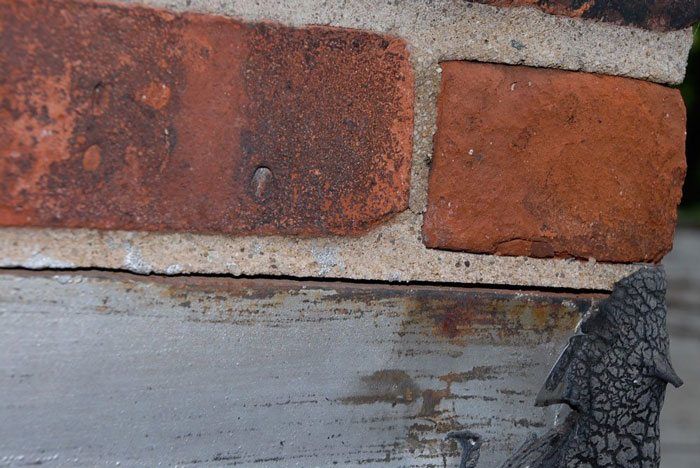 Chimney flashing causing leaks – to be able to fix flat roof leaks, you need to identify what causes the leaks. See the flashing in this image – How to Fix a Flat Roof in Altoona, Pennsylvania – Flashing on the chimney is leaking. Seal the flashing where it meets the cement
7. Drains – Flat roof repairs around drains
When a drain is leaking, it is not always necessarily what causes the leaking. Because the drain is normally lower than the rest of the roof, a leak could start somewhere else and flow towards the drain underneath the roof membrane.
To locate a leak around a drain area do the following:
Try to open the ceiling where the drain is coming through the roof and make a visual inspection
Clean all debris that has accumulated around the drain and strainer
Remove the strainer to make a visual inspection of the drain pipe from above
Make a close-up inspection of the roofing membrane and the drain flange to see if it hasn't separated
If you can't find an obvious problem, call an experienced roofing technician to find and repair the leak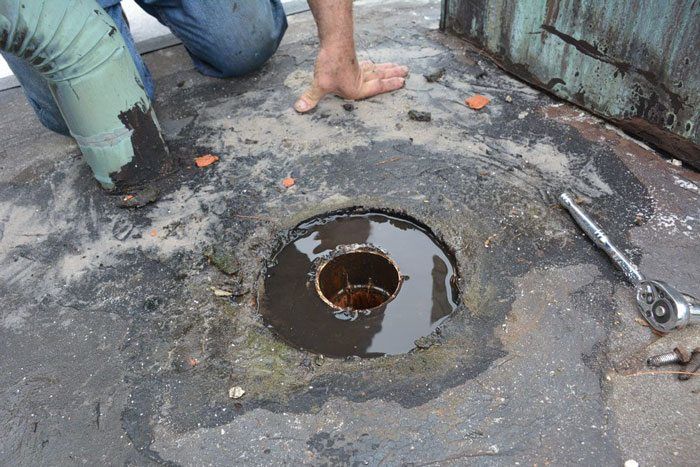 Flat Roof Repair – The rubber membrane was never attached to the drain flashing in this image – Phillipsburg Pa
8. Dripedge – Locating the roof leak at the perimeter of the roof on the drip edges
Drip edges are made of metal and make the transition from the roofing membrane to the gutter or edge of the roof
Things to inspect to see if the drip edges are causing roof leaks:
Inspect to see if the membrane is still attached to the metal edging on the perimeter of the roof
Check where two drip edges overlap for a potential gap or crack on the roof
Make sure the drip edges are still properly attached to the substrate
If gutters are present, make sure the drip edges are pointing into the gutter and not behind the gutter
Flat Roof Repairs and Installation Team
Roofing contractors over 25 years – We fix what other roofers mess up!!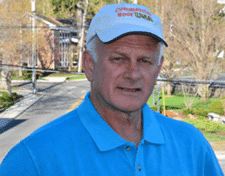 Naas Ferreira – Pennsylvanian
Roofing Contractor for over 25 years – Flat Roof Repairs in Pennsylvania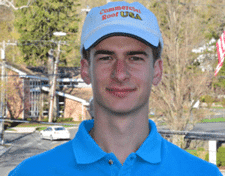 Erik Ferreira – Pennsylvanian
Owner – Estimator – Job Coordinator – 12 years -for flat roof repair in Pennsylvania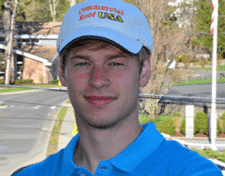 Andre Ferreira – Pittsburgh Steelers Man
Manager – Estimator – Roof Assessor – 14 years in Pennsylvania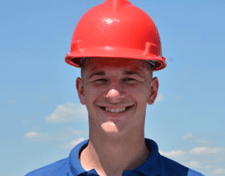 Sven Ferreira – Philadelphia, PA
Project Manager – Coordinator – 8 years in Philadelphia, PA
Below are the three images of the Three Different Types of Roofing membranes found on flat roofs
Torch Down Rubber Membrane
This is what a Torch Down Rubber Membrane looks like. The membrane come in three-foot-wide rolls and the seams are fused together with a torch.
When making flat roof repairs on a Torch Down Roof, you can use any petroleum product as in tar, butyl caulk. This roof in the image has a white granular embedded on the surface to protect it from ultraviolet rays.
Many times a plain torch down membrane is installed with no granular, then a silver coating must be applied to protect it.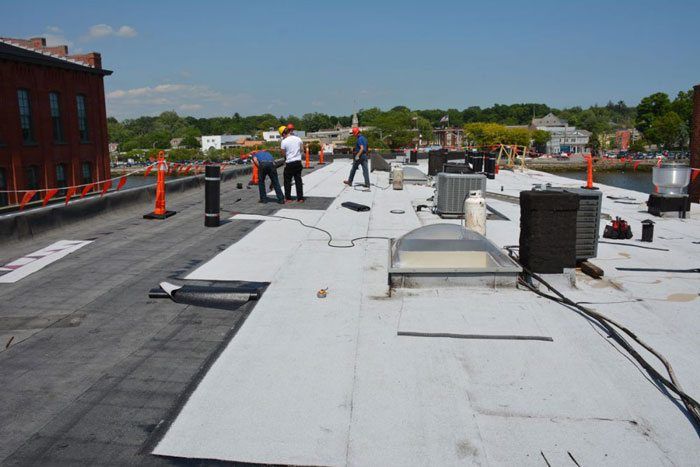 Torch Down Rubber Membrane – How to Fix a flat roof Pittsburgh, PA – It is a Torch Down Rubber membrane over Tar and Gravel
EPDM Rubber Roof Membrane
This is what an EPDM Rubber Roof Membrane looks like. It is black, and have a smooth surface. The seams can be from ten feet to twenty feet apart. When you need to make flat roof repairs on an EPDM rubber membrane, the first thing to check is the seams. The adhesives that are used to bond the seams together, prematurely fail, due to the extreme heat and ultraviolet.
The adhesives that are used to bond the seams together, prematurely fail, due to the extreme heat and ultraviolet. EPDM rubber roofs generally don't last more than 8 years without severe issues and repairs.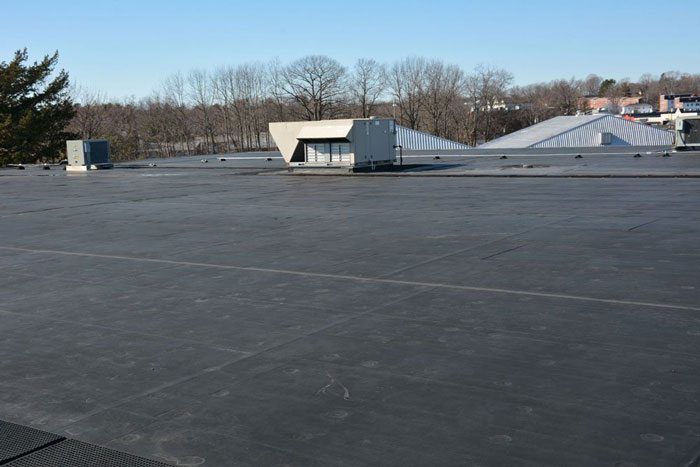 EPDM Rubber Roof Membrane – Repairing, patching and making EPDM Rubber flat roof repairs – How to repair a flat roof in Pittsburgh PA – Roofers shows you How to make repairs on your flat roof
TPO Roof Membrane
This image shows what a TPO Roof Membrane looks like. These roofs are generally good and will last up to 20 years. It is a better roof than that of an EPDM Rubber membrane but it is still susceptible to ultraviolet rays. In the video above I showed how the TPO Roof is at its end due to ultraviolet degradation.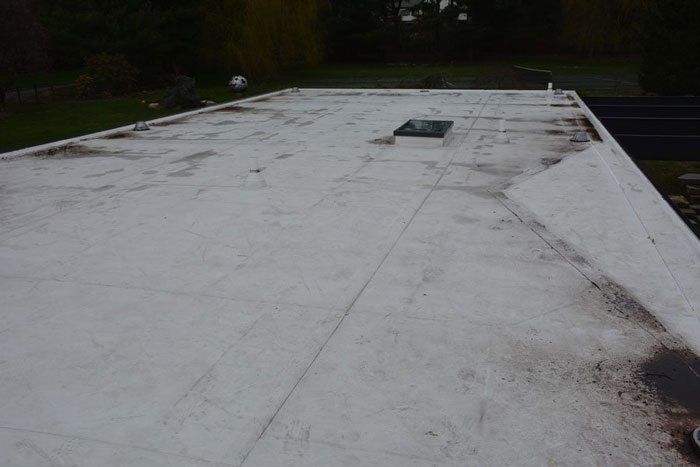 TPO Roof Membrane – Mending and fixing flat roofs is what we do. Patching TPO membranes How to fix a Flat Roof – TPO Roofing – Greensburg PA, this is a TPO Roof that started to leak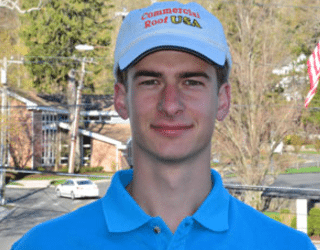 Erik Ferreira – Commercial Roofing Contractor – Flat Roof Repairs in Pennsylvania
Erik is my oldest son (roofing contractor) and is 27 years old. He has been in Flat Roof Repairs before he left school during vacations. He has decided to take the business further and keeping it in the family. With all the flat roofing experience and knowledge passed down, you can be assured to get the best service and product.
Fix, Patch or the Repair of Flat Roofs in Pennsylvania
We are Roofing Contractors for the Installation and Repairs of Flat Roofs. With our experience of over 30 years, we can troubleshoot and repair any roof leak. Commercial and residential flat roofs are all the same. Most roofs can be repaired even if they were badly installed.
Free Estimate call:
203 858-0080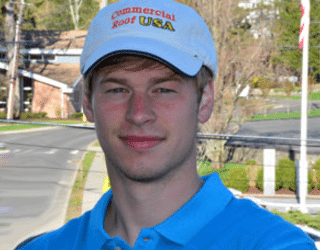 Andre Ferreira – Commercial Roofing Contractor in Pennsylvania
Andre is the second oldest son (roofing contractor) and is 25 years old. He started when he was 16. He has always been hands-on all aspects of roofing. When it comes to troubleshooting a leak, he is the one that beats everyone. Now that my sons are running the business, you can be assured of receiving quality service and knowledge that is passed down.
Andre Ferreira – Roofing Contractor We service the following counties in Pennsylvania: Allegheny County, Armstrong County, Beaver, County, Bedford County, Berks County, Blair County, Bradford County, Bucks County, Butler County, Cambria County, Cameron County